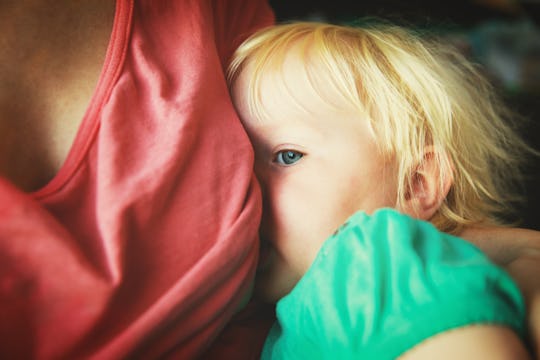 nadezhda1906/Fotolia
8 Breastfeeding Questions Your Family Will Inevitably Ask You At Christmas
It seems like once you get pregnant, your body (and the choices you make with or for it) is open to endless scrutiny. That trend doesn't end once your baby's born, either. And when it comes to holiday gatherings, well, they're nothing more than prime opportunities for families to get together and ask one another uncomfortable, inappropriate, intrusive questions. So if you're a nursing mom, know there are more than a few breastfeeding questions your family will ask you at Christmas. In other words, prepare yourselves.
I've heard everything from, "Are you breastfeeding?" to, "Do you have to do that here?" after my family gathers around the Christmas tree. For me it was a pretty big deal to breastfeed "in public," and honestly the last thing I needed was people questioning my decision to nurse or asking me to cover up. My baby needed to eat, too, and being scrutinized made me feel ashamed. And my favorite part of Christmas is definitely the food, so it seriously bothered me when people asked about what I was eating and drinking, too. My diet habits aren't a topic for discussion, people. And while I know that it's totally OK to have a glass of wine or beer with your holiday meal while breastfeeding, it somehow had a bitter aftertaste when everyone was watching me and asking me if I should be drinking.
Breastfeeding and the holidays are hard enough on their own, and when you combine them together, well, you unfortunately have to deal with your family's questions about how you feed your baby. Merry freaking Christmas, my friends.