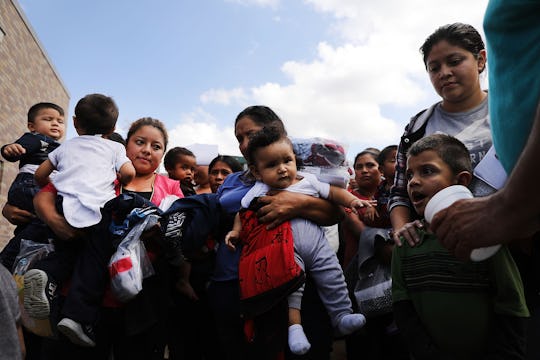 Spencer Platt/Getty Images News/Getty Images
8 Moms Share Their Children's Heartbreaking Reactions To Trump's "Zero Tolerance" Policy
Problematic immigration policies are nothing new in this country. For decades, those in power have detained and deported countless immigrants fleeing prosecution and crossing the border. More recently, however, president Donald Trump implemented a "zero tolerance" policy, which resulted in immigrant children being forcibly separated from their parents. It's the kind of harrowing news that breaks the heart of any feeling parent, and now kids are having heartbreaking reactions to the zero-tolerance policy, too.
My own son is too young to really understand the complexities of the current policy, but he understands basic humanity. He gets what's right and wrong. When I asked him how he would feel if someone took his mommy away, he got visibly upset. I explained that some people are being forced to live apart from one another, even though they don't want to. His reaction? "That's not nice."
My son is 4 and he already knows that many people (like my family) leave their home countries to provide a better life for their loved ones. And he gets that, on a very basic level, it's wrong to separate children from their parents, or detain whole families together. And while Trump signed an executive order he claims will end forced separations, hundreds of children still remain without their guardians and there's no guarantee these families won't be separated via deportation later on.
This kind of heartbreaking news leaves many of us parents on edge, and the country is clearly divided on the "zero tolerance" policy (among other things). But when I spoke to a few moms about how their own children are feeling about it, they all had some pretty straightforward answers.