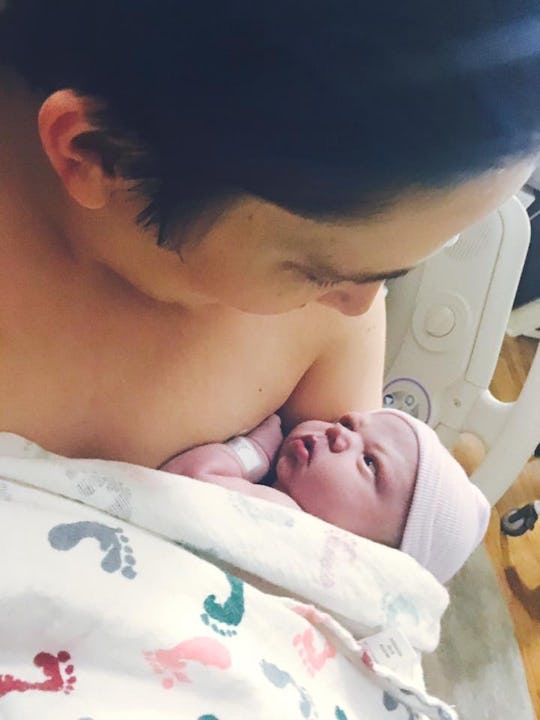 Courtesy of Steph Montgomery
8 Things That Don't Make A Birth "Fake" So Go Ahead & Ignore The Haters Already
The moment I found out I was pregnant I knew I wanted a "natural" birth. I thought the alternative would be cold, impersonal, medical, and, in the end, make me less of a woman. I hired a midwife, watched documentaries, and read everything I could about childbirth. But when I needed to be induced my birth plan went completely out the window. And while I had pretty much the opposite of a "natural" birth, choosing pain relief and needing medical care are just a few of the things that don't make a birth "fake." Like, at all.
Watching your birth plan circle the proverbial toilet isn't easy, but I will say that remaining open-minded and flexible during labor and delivery taught me a few clutch lessons that have aided me as I continue to parent my children. For example, I realized that the inadequacy I felt regarding my specific birth was largely due to unrealistic expectations and relentless shaming from other moms. It seems like the moment you get pregnant people start asking you if you plan to have a "natural childbirth," which always means going into labor on your own and having a vaginal birth sans pain medication. This kind of birth is deemed superior and ideal, and if you choose or need to have a different kind of birth, for whatever reason, you are made to feel like there's something wrong with you.
Honestly, I wish the phrase "natural childbirth" would die in a fire. What's the opposite of natural, anyway? Unnatural? Fake? Less than? I've come to understand that when people say "natural childbirth" they mean "good childbirth," as if there's a hierarchy involved when bringing human beings into the world. The idea that one kind of birth is preferable to another is ableist, classist, and overwhelmingly misogynistic. Childbirth may be a natural process, but before we had science and medicine to help things along it was also a dangerous, painful process. We have got to get past the idea that feeling pain means but you're "better" at birth, or a stronger person, or more adequately equipped for motherhood.
Above all, I wish all moms could view their pregnancies and births as amazing and badass. Birth is not a contest, and my births weren't "fake" by any means and regardless of the interventions I experienced. They were beautiful, and empowering, and they were everything my body, and my baby, needed. Yes, despite not being entirely "natural."