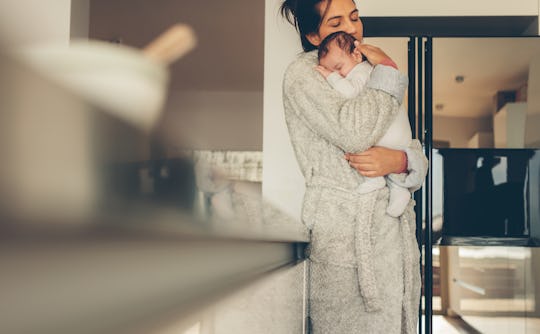 Jacob Lund/Fotolia
8 *Totally Satisfying* Experiences Only A New Mom Will Understand
Postpartum life is full of highs and lows. From the moment that baby exits your body and is placed into your arms, you experience unfaltering and conflicting emotions. You're exhausted and exhilarated. You're happy and wistful. You're excited and frightened. It's no wonder, then, that postpartum life offers some totally satisfying experiences only a new mom will understand. These wonderful and happy experiences often make new moms feel rewarded for the difficult job that is motherhood. Because, let's be honest you guys, sometimes motherhood — especially new motherhood — feels overwhelmingly harsh.
New moms experience so much truly satisfying events, it's hard to pick just a few. For many moms, it's satisfying to simply watch their babies hit their milestones. The first smile, the first laugh, the first time their babies roll over, crawl, cruise, walk, are all cause for celebration. The first time their babies eat solid foods, try a lemon, and feed themselves with a spoon feel like monumental wins. But there are seemingly insignificant experiences that only a new mom can appreciate, too, and they're not all that obvious.
I remember the first time I left the house without the baby. It was a trip to Babies R Us for diapers and bottles. It wasn't anything exciting, but I was all on my own. My mother was watching my daughter and I was free for a few hours, until I needed to come home and feed the baby. So, I got into my car, rolled the windows down and turned the music up, let the wind blow through my hair on a warm spring day, and I rocked out like I was a teenager again. It was glorious and freeing. After feeling like a prisoner in my own home, in pain and bleeding, I finally felt a taste of freedom I didn't know I longed for. I strolled the aisles of Babies R Us slowly, enjoying every moment of being alone. I browsed what I needed and what I did not need. I looked at baby clothes and fantasized about getting eight hours of sleep. It was a joy only a new mother understands, just like the ones below.