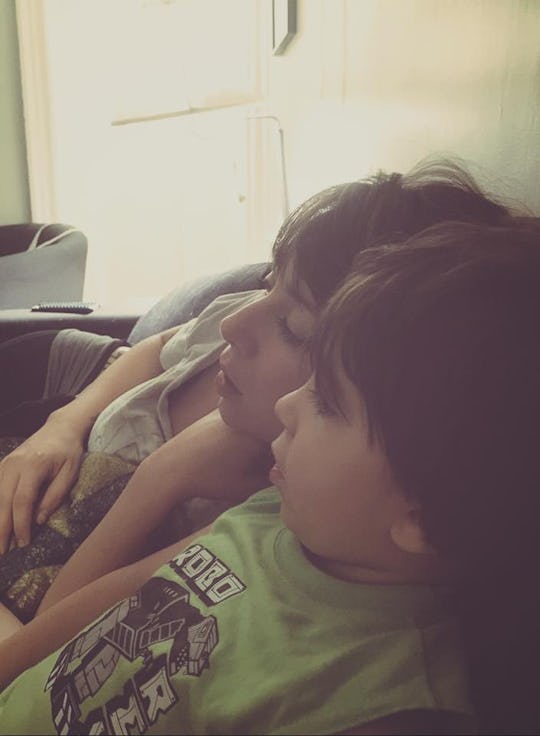 Courtesy of Danielle Campoamor
9 Bed-Sharing Habits That Make You An Amazing Mom
If you would have told me, four years ago, that I would be sharing my bed with a tiny man who kicks me in the face, I would have told you you've got the wrong girl. However, here I am: bed-sharing with my toddler because that's what we've done since the day he was born. While it definitely doesn't work for everyone, bed-sharing certainly worked for my family. It also helped me grow as a mother. In two years I've realized there are more than a few bed-sharing habits that make you an amazing mom, and actually prepare you for the endless road of trials and tribulations (both the hilarious and the frustrating) that only motherhood can provide.
Prior to bringing my son into the world, I didn't even consider bed-sharing. As a matter of fact, my partner and I purchased the most ridiculously expensive crib we could find, all in an effort to provide our son with the safest, most comfortable sleeping space once he arrived. Little did I know, the safest, most comfortable space for him would be right next to me. After he was born he had issues regulating his breathing and body temperature, so my team of doctor's and nurses suggested we sleep skin-to-skin the first night of his life. My body helped his body stabilize, and we never looked bad. Now he's a 2-year-old toddler and we're trying to convince him that his Cars toddler bed is really where he wants to sleep. So far? Yeah, he's not buying it.
Not only did bed-sharing give me peace of mind, made breastfeeding substantially easier, allowed my entire family to get more (very necessary sleep) and helped my son's body find neutral, it also showed me what I was willing to do in the name of motherhood. It taught me to find and fight for my personal boundaries, compromise with both my son and my partner, and prioritize my own self-care. So, if you're contemplating bed-sharing or currently in the throes of baby punches and toddler kicks, know there are more than a few habits you can adopt as your own, that prove you're one kick-ass mom.