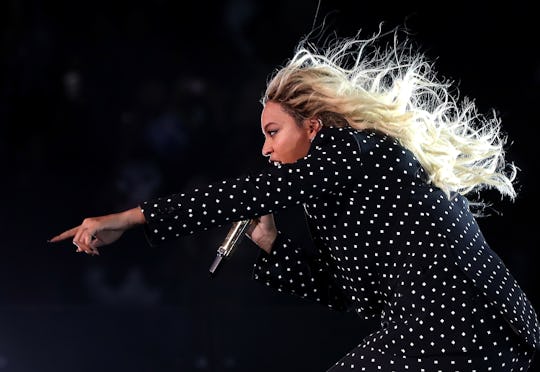 Justin Sullivan/Getty Images News/Getty Images
Beyonce-Inspired Comebacks Every New Mom Needs
Beyoncé is pregnant again, and it's been the one bright spot in my newsfeed this year. I'm not only tickled that one of pop culture's feminist icons is procreating, but that she is someone with zero tolerance for haters on her appearance as it morphs through the stages of growing and giving life. Beyoncé would take no crap from anyone and we should all arm ourselves with Beyoncé-inspired comebacks to comments about our postpartum bodies. She embodies what women like me strive for: never giving any f*cks what people say, especially if they say something having to do with being a mother.
I really wish I had been ready with some Beyoncé-inspired retorts to comments about my postpartum body. I hadn't properly readied myself for them and, instead, swallowed them whole; their jagged edges catching on the back of my throat as I choked back tears and forced out stoicism every time someone asked me when I was due weeks after the baby had been born.
I was not prepared for my postpartum body. I knew I wouldn't snap back to my pre-baby state, since it had taken me about 10 months to gain 30 pounds and expand in surprising ways. However, I didn't know my breasts would grow even more as my milk came in, and my hair would start shedding from my head, and my mid-section would stubbornly remain squishy. I certainly didn't expect anyone to remark upon my physical appearance. Weren't they distracted by this adorable newborn?
It's too late for me now, since I'm done having kids, but if you find yourself on the receiving end of some judgment about your appearance after having a baby, here are some Beyoncé-level comebacks to stop the haters in their tracks. (Actually, I can still use these, even though I'm six years postpartum, right?)