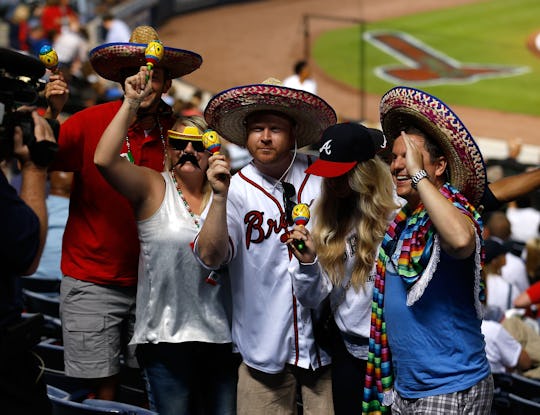 Mike Zarrilli/Getty Images Sport/Getty Images
9 Mexican Moms Share The Things Cinco De Mayo Is *Not*
Every May, a holiday comes along that brings with it controversy and a problematic avalanche of appropriation. No, I'm not talking about Mother's Day. I'm talking about Cinco de Mayo. Some folks see it as a day to simply celebrate Mexican heritage in the United States. Others, however, use it as an excuse to act out racist stereotypes, drink tequila, and, for lack of a better explanation, act a fool. That's why I asked mothers of Mexican heritage to share the things Cinco de Mayo is... and is not. Because honestly, America, this has gone on long enough.
For those who aren't yet aware, Cinco de Mayo is not Mexico's Independence Day. That, my friends, falls on Sept. 16. Instead, Cinco de Mayo celebrates the Mexican victory against the French at the Battle of Puebla in 1862. As such, the holiday is only officially celebrated in the state of Puebla, and most fervently celebrated within the city of Puebla itself. Mexico is a very large country and as diverse as any other, so the assumption that all Mexicans celebrate Cinco de Mayo is incorrect. Many Mexican Americans (or Chicanxs) celebrate the holiday here in the United States, and many others do not. There are no hard and fast rules about the particular day, other than it shouldn't be called "Cinco de Drinko."
When I was younger, I didn't get the opportunity to learn more about the Mexican side of my heritage. Friends would get together to drink margaritas and Mexican beer and make American-style tacos and, honestly, I didn't think much of it. These days, however, I recognize that while it's perfectly fine to celebrate the day, it's important to do so respectfully. In our current political climate — when we have a president who has repeatedly disparaged Mexico and labeled the country's citizens rapists, criminals, and drug dealers — it feels even more important than ever to speak out about the way some people approach this holiday. As such, I got feedback from a few Mexican and Mexican-American moms about what this holiday is, what it should be about, and what folks shouldn't be doing.