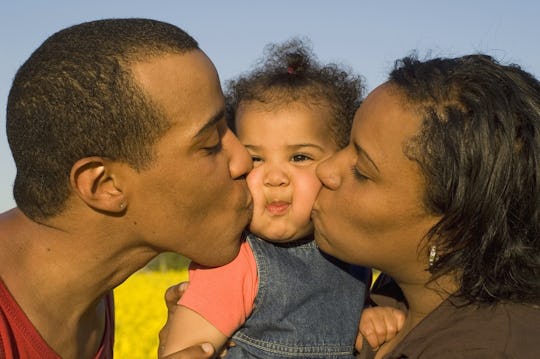 Fotolia
9 Pregnancy Arguments I Had With My Partner That Proved We'd Make Great Parents
For the most part, I can confidently say that my partner and I are on the same page. While we come from very different backgrounds and families, we share the same beliefs (usually) and the same parenting ideals (always) and have found a way to raise our son as a team, instead of two people who are constantly clashing. I knew we would do well as parents when I met him, but the arguments I had with my partner when I was pregnant proved, to me, that we would make great parents. After all, nothing says, "We're going to rock this parenting thing," like disagreeing about a recent Google search, right?
I had a very difficult pregnancy, so my partner and I didn't have as many chances to focus on the "little things" and have hormone-fueled fights as (I'm assuming) other couples do when their respective pregnancies go "according to plan." Still, we found ways to bicker and argue and disagree because, duh, we're a couple. Those arguments weren't necessarily all-out arguments, or even what I would consider a "fight," but more like manifestations of our anxiety and excitement. We couldn't wait to meet our son, but we were also terrified to meet our son. We wanted to be parents so badly, but we were afraid that we would fail at being the parents we already knew our son deserved. Parenthood, man. I'm telling you, it's just one long clusterf*ck of juxtaposing emotions that are nothing if not exhausting.
Thankfully, those arguments — while sometimes annoying and usually unnecessary — were subtle reminders that were going to be wonderful parents. If you're worried enough to dispute certain scenarios with your partner, and you want to make everything "perfect" to the point that you disagree on what "perfect" is, you're on the right track. So, if you are currently expecting and you find yourself arguing with your partner about the following things, just know that your future baby is one lucky kid. They're going to have amazing parents.