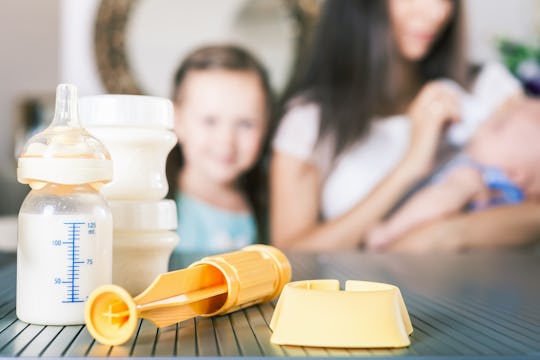 Fotolia
9 Things You Don't Have To Do When You're Breast Pumping, Even Though Everyone Says You Do
If we are going to name one aspect of motherhood that comes with more "rules" than I can count, it's breastfeeding and its evil cousin, pumping. Thankfully, I went through the ringer so that friends and family members (and you) don't have to, and I can tell you that after careful consideration and an unforgiving learning curve, I've realized that there are a few things things you actually don't have to do when pumping, even though everyone tells you that you do.
Anyone who's is either planning to be a parent or has since became a parent, has been on the receiving end of tons of (often unsolicited) parenting advice; some of it welcome and some of it, well, not so much. There are countless things that new moms are told that they "should do," like sleep when the baby sleeps, or avoid pacifiers, or really, just try to avoid serious injury and illness while simultaneously doing all of the things and never succumbing to complete exhaustion or self-doubt. New mothers are under so much pressure, and it's usually because the expectations are ridiculously high.
The common suggestions tossed around about breastfeeding should be taken as just that: suggestions. I'm not saying that you'll never want to consider what other moms say or how they've managed to breastfeed or breast pump, it's just that you don't always have to. Here's a few solid examples of the things you really don't have to do when you're pumping milk for your baby, because no one knows better than you, mom.