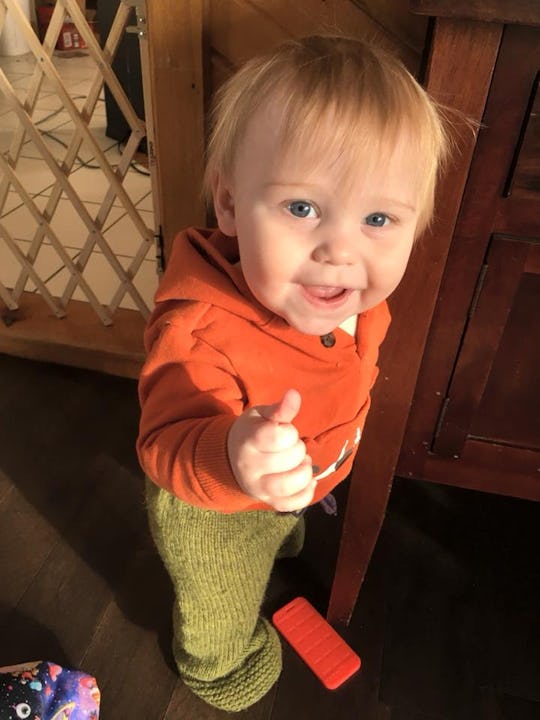 Courtesy of Steph Montgomery
9 Times You Should *Definitely* Follow Your Toddler's Lead
As a toddler mom, I believe it's my job to keep my kid out of trouble, meaning out of the bathroom, off the bookshelves, and away from gross crumbs that'll inevitably end up in his mouth. While this job can be frustrating at times, after successfully making it through the toddler years with his older brother and sister I've learned that recognizing when to give a little can go a long way. In fact, there are times you should definitely follow your toddler's lead, and giving them the space to take the proverbial reins will only make your job easier.
Now, I am not talking about following them into the street or letting them eat ice cream for dinner. Obviously, as the parent, you're often the one tasked with charting the course and making sure everyone follows closely behind. But when it comes to, say, my child's body and the foods he eats and how he plays, I let him call the shots. I believe that all people, big and small, deserve to control what happens to their bodies and with exceptions for things like diaper changes, vaccinations, and brushing their teeth, I don't touch my kids without their permission. The same goes for giving hugs and kisses, and choosing what, if anything, they eat at meal times.
I've also learned that there are things you absolutely can't force your toddler to do, like poop in the toilet before they are ready, or not climbing out of their crib. So, in those moments, I don't force the issue, especially since I've found it's much easier to let them take the lead and let me know when they're ready for a change. You might think I am a bit too permissive, and that can be a fair argument, but my toddler is also my third child so, at this point, I'm all for making my life easier. I also don't see the point in fighting with my kids all damn day, especially about things that don't matter in the long run. So you better believe there are times when I let my toddler set the pace, including the following.