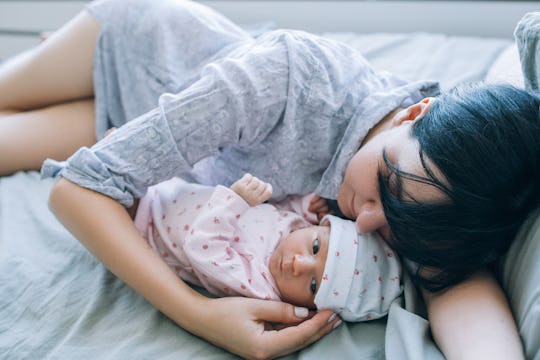 golubovy/Fotolia
A New Mom's Guide To Figuring Out If She Should Be Cleaning Or Sleeping
I consider cleaning a drag and, as a result, have been a slob the majority of my life. Motherhood changed that, though, and made cleaning a necessity. It's also made it more harrowing, since I was cleaning up after more than one human being while sleep deprived, overwhelmed, and healing from childbirth. As a new mom, I always heard "sleep when the baby sleeps," but if I did my house would've looked like the inside of a garbage can. So, should a new mom be cleaning or sleeping when she finally has some down time?
Technically, there's no right or wrong answer. Personally, I chose to at least try my best to clean when I could. And, luckily, in the early months of postpartum life I was fortunate enough to have my mom around to help, too. But I won't lie: being horrifically sleep deprived made it difficult to muster up enough willpower to even want to clean, let alone get up and actually accomplish anything. Still, there were moments when I knew a bit of tidying up was 100 percent necessary. In fact, sometimes cleaning was the only way I could feel sane and in control of this new, overwhelming life of being someone's mom.
In my opinion, during the first few months to at least the first year of parenthood, it's absolutely OK to cut yourself some slack and let a few responsibilities sit on the back burner. You're adjusting to life as a new mom, trying to feed a demanding infant, healing from childbirth, and surviving on little-to-no-sleep. So seriously, that pile of laundry or whatever is growing in the corner of your bedroom can wait. But if you're wondering whether you're being a bit too lax on your housekeeping, consult the follow guidelines. They will help you figure out if you should be sleeping, or cleaning.