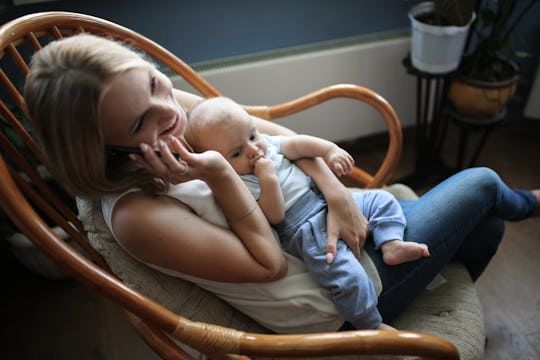 natalialeb/Fotolia
Actually, Millennial Moms Are Too Broke To Raise Entitled Kids
It's natural to idealize how you were raised. I do it, too. I mean, in some ways my childhood was idyllic — a small town, a stay-at-home mom, and the freedom to roam until the street lights came on. I've come to understand, though, that when people people talk about how awesome their childhoods were, they generally follow with a criticism of "parents these days" and their "entitled kids." I'm so over it. I'd even go so far to say that millennial moms aren't raising entitled kids at all. We are just raising different kids in a different world, with fewer resources, more debt, and a whole new set of challenges than the ones our parents and grandparents faced.
Besides, most of the arguments leveled against millennial parents pretty much prove that people don't know what "entitled" really means.
"You don't make your kids clean their plates? They will think they don't have to eat what you cook. They are so entitled."
As if it's a bad thing to not force someone to eat a food they dislike or eat when they aren't hungry. As someone who has endured an eating disorder and experienced what is sure to be life-long issues with food, I am actually OK with my kids knowing they get to control what they put in their bodies.
"Everyone got a trophy for competing? What a shame. Kids are so entitled these days."
OK, so from now on, we will only pay lawyers when they win cases, doctors when their patients have positive outcomes, legislators when they get legislation passed, and professional athletes when they win games. Sound fair? Of course not. Effort matters. Besides, all kids aren't able to win. And for some of them, showing up requires some serious hard work.
"Your kid is throwing quite a tantrum at the store. You need him to fear you. What an entitled brat."
You're damn right my kids don't fear me, and I don't want them to.
Actually, when I think about it, there are a ton of things I actually want my kids to feel entitled to — bodily autonomy, respect, acceptance, safety, equal rights, health care, an education — and those things shouldn't be negotiable or up for debate. So, maybe I am raising entitled kids? I don't think so. I think everyone deserves those things. Look, motherhood is hard AF, and while I don't want a participation trophy, I would really like previous generations to stop dismissing millennials when we're simply trying to parent the best we can in a world they created for us. So no, we're not raising "entitled" kids, and here's why: