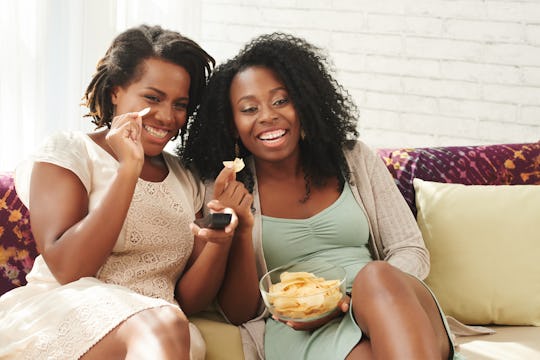 DragonImages/Fotolia
27 Moms Share The Way They Satisfied Their Sweet & Salty Craving During Pregnancy
To me, cravings are the weirdest pregnancy symptom by far. I desired — and actually ate — so many odd food, drink, and flavor combinations that I know I would never eat at any other moment in my life. For example, I craved sweet and salty things when I was growing a human inside my body. Together. That might not seem all that weird to you, but that flavor combination was foreign to me. Still, when I was pregnant and able to eat something salty and something sweet at the exact same time, I was in pregnant girl heaven.
Because I had hyperemesis gravidarum, my doctor told me to literally eat anything that sounded good and that I could keep down. So I let my cravings lead the way, and they led to me in some interesting directions. I ate things like salt and vinegar potato chips with Coke, handfuls of trail mix made with cheese crackers, dry-roasted peanuts, raisins and peanut butter M&Ms, pretzels and chocolate milk, Stilton cheese and dried apricots, and curly fries dipped in vanilla ice cream. At the time, I thought my cravings were pretty weird, but when I asked other formerly pregnant people what their go-to sweet and salty treats were during pregnancy, I realized that, well, I'm not that abnormal at all. And you guys, I once put salt on a caramel roll. (It was this recipe from Smitten Kitchen and it was incredible, in case you were wondering.)
If you are pregnant and need some ideas to indulge your sweet and salty pregnancy cravings, read on for tips, recipes, and food combinations that only a pregnant woman could love. Growing a human is hard, so I say go ahead and indulge every once in a while.