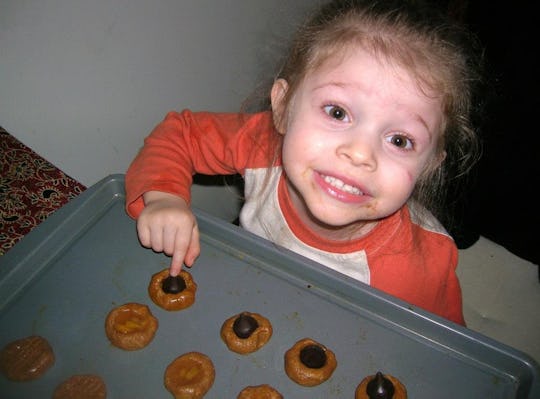 Courtesy of Steph Montgomery
Here's To 2-Year-Olds, Because Everything Changes When They Turn 3
I honestly think 2-year-olds get a bad rap. Even before I had kids I heard about the "terrible twos." When my daughter was a baby people would comment about how chill she was, warning, "Just wait until she turns 2." Once she turned 2, I kept waiting for her to change. Turns out, I had to wait the whole year. Guys, her 2's weren't terrible at all. It all changed when she turned 3, though. So I think it's time we sing our 2-year-olds' praises, because 3-year-olds are actually the worst.
I often think back fondly about my daughter at 2-years-old. We had moved to a new city and I didn't know anyone, so she was my best buddy. In fact, we did everything together. My husband worked out of town, so I was on my own for morning wake-ups, day care drop-offs, dinner, and bedtime. At first I thought it would be terrible, but I honestly didn't mind. Why? Well, because my 2-year-old toddler was great — so helpful, gentle, kind, and snuggly — and not at all like people told me she'd be. Now I'm not saying there wasn't the occasional tantrum, but honestly, I really started to wonder why people think 2-year-olds are challenging.
Then she turned 3, and while my daughter at 2 was an angel, at 3 she was a demon. I wish I was exaggerating. Gone was my helpful, sweet child who cheerfully ate the food I made, wore the clothes I bought, and went to bed with a book, a song, and a kiss on the head. In her place was a "threenager" who subsisted solely on grilled cheese sandwiches, chocolate milk, and pure evil. Her personality shifted from "loves to help mommy" to "loves to roll her eyes and laugh while she runs away from mommy in the parking lot." While I knew, logically, that it was completely normal for my 3-year-old to assert her independence and want control over her life, it was a lot for this tired mom to manage. I honestly missed my little angel and wished I could exorcise the demon that seemed to possess her. So with that in mind, and because nostalgia is one hell of a drug, here's why 2-year-olds are the best. No, seriously. They are.