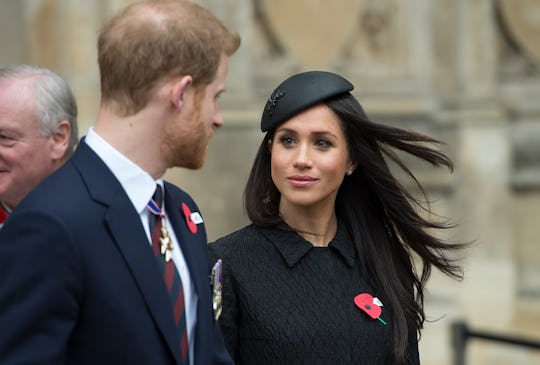 WPA Pool/Getty Images Entertainment/Getty Images
Here's How To Rewatch The Royal Wedding This Weekend
It feels like the whole world has royal wedding fever, but given the time difference, you have to be a very dedicated devotee of Prince Harry and Meghan Markle to get up that early in the morning. No offense to the royal family, of course! Luckily, if you have to send your regrets to your friend's 4 a.m. viewing party, there are a few ways to rewatch the royal wedding. That way, you'll be able to know what everyone's talking about come Monday morning.
The royal wedding is happening Saturday, May 19 at 7 a.m. Eastern Standard time. But that's just the actual ceremony — the best parts are all of the arrivals and seeing what kind of outrageous hats those Brits show up to the party with. Or, you know, catching little Prince George and Princess Charlotte running around the lawn of Windsor Castle. It's a whole thing. There are going to be a couple ways to watch it live, as all of the major networks, CBS, NBC, ABC, BBC America, E!, and even HBO, will be airing a broadcast starting at 4 a.m. Eastern Standard time or just after.
It will also be streamed on Twitter and celebrity news sites such as People. So, if you wake up later in the morning, you can probably catch the tail end of it. But what if you want to watch it Saturday night with a bottle of wine instead? Well, you're in luck.
If you have cable, you will likely be able to find the broadcast on-demand, much like you can do with other international, long events, like the Olympics. But that might not be until a full day later, depending on their broadcast schedule. If you don't have cable, it might be more difficult to access after. The good news is that most of the networks will also be streaming their broadcast on YouTube, according to Marie Claire, so you can always find the arrivals, ceremony, parade, and the commentary on the video site forever and ever after.
Of course, if there are any memorable moments, or Kate Middleton's hat flies off of her head, you'll definitely be able to find GIFs of it later courtesy of the internet. No moment will go undocumented when it comes to the royal wedding! But finding it on-demand or on YouTube the next day will likely be your best bet.
As we already know, the royal wedding is going to be a huge affair. There are reportedly around 600 guests invited to the ceremony at St. George's chapel in Windsor, including the entire cast of Suits, Priyanka Chopra, Victoria and David Beckham, and even the Spice Girls, according to Cosmopolitan. Princess Diana's family will be there, along with a handful of Harry's ex-girlfriends, and, of course, it's a great chance to see Queen Elizabeth.
Prince William is part of the wedding party, but Kate Middleton is likely not. Their son, Prince George, will be a page boy and carry Markle's train down the aisle, while Princess Charlotte will be the flower girl. And yes, all of this will be televised for your viewing pleasure.
However, the one thing that will not be televised is the reception. It's the invite that everyone else really wants, but there are only 200 people invited to that party and people were already feeling snubbed before the wedding. For example, Harry's exes are only allowed to go to the wedding ceremony, as is his cousin, Lady Amelia, and Duchess Sarah Ferguson (better known as Fergie), according to Harper's Bazaar. You can imagine that it was not easy to whittle the invite list down to just 200 people from 600. It might seem like a lot to us regular folk, but Harry's family is huge, as is Markle's circle. And you want to make room for your friends on the dance floor, right?
Alas, none of us will be able to watch the after-party on television, but we can eat cake, pop a bottle of champagne, and toast the happy couple while watching the royal wedding reruns.