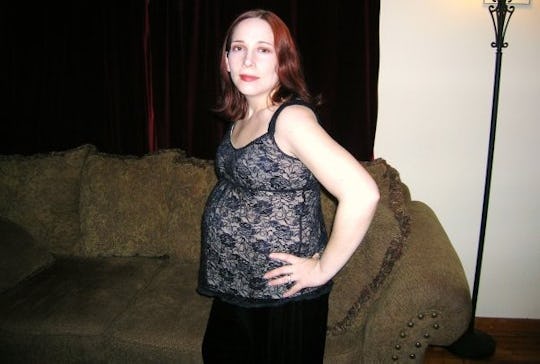 Courtesy of Steph Montgomery
I Was Cheated While Pregnant & Here Are 8 Things You Get Wrong About Me
I didn't tell very many people that my first husband cheated on me. Even now, years later, I don't talk about it much. It's so embarrassing, especially because I was cheated on when I was pregnant. It's not that I still think it was my fault that he cheated or that my pregnancy had anything to do with his infidelity, it's just that I know there are people out there who will blame me for his transgressions, and that's something I don't want to deal with. Ever.
For better or worse, people don't straight-up tell me the demise of my marriage was all my fault. Instead, whenever I read that some celebrity cheated on their pregnant partner, someone will question if the person who was cheated on was at least "a little bit to blame." People speculate about their sex life, criticize her pregnant body, or even say they don't blame him for cheating because of x, y, and z. It's unfair and devastating and, unfortunately, the misconceptions about women who've endured that kind of disloyalty don't stop there.
In my experience, most people tend to think of cheating in terms of sex — the cheater isn't getting enough sex from their partner so they "are forced" to get it somewhere else. This is all kinds of offensive, because no one forces someone to cheat, no one owes sex to literally anyone else, and interpersonal relationships are never that simple. In fact, I don't think cheating is about sex at all. For my ex, it was about women making him feel like the center of the universe. He believed I was way too wrapped up in being pregnant, parenting our toddler, and doing my job to treat him how he wanted to be treated: like a god.
To make matters worse, when you are cheated on while pregnant you feel so much guilt. I wondered if it happened because I was uncomfortable, moody, and didn't feel like having sex. Or maybe my partner didn't want to have sex with me because I was swollen, sweaty, vomiting, and "fat." As a pregnant woman I was already so vulnerable, and his infidelity only filled me with more self-doubt.
People think they get what it's like or know what they'd do in my pregnant shoes, but I think this is a horrible situation you can't adequately understand unless it has happened to you. And since I wouldn't wish being cheated on when you're pregnant on my worst enemy, I know so many people get things wrong about me and this situation, including the following: