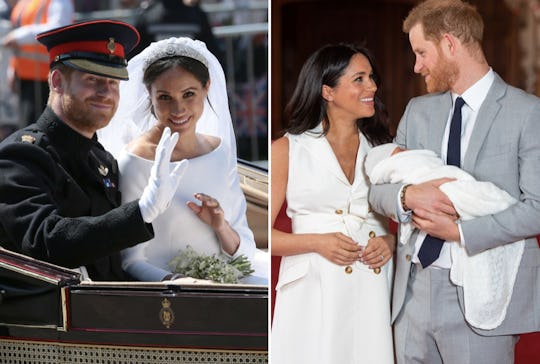 WPA Pool/Getty Images Entertainment/Getty Images/ WPA Pool/Getty Images Entertainment/Getty Images
Celebrate Meghan & Harry's First Year Of Marriage With These Sweet, Lovely Photos
Just two weeks after welcoming their first child, the Duke and Duchess of Sussex are celebrating their first wedding anniversary on Sunday, May 19. Looking back, it's easy to see in photos of Meghan Markle and Prince Harry's first year of marriage that these two have only grown more and more in love with every single day that has gone by. From royal tours to family events, these two have warmed hearts around the world with their genuine care and devotion to one another.
From the start of their relationship, the couple seemed to work hard to prioritize one another. Distinct from Kate Middleton and Prince William, who had to be pretty focused on their public appearances and that whole heir-to-the-throne thing, Markle and Prince Harry have long sported a relaxed, happy air when seen together.
In fact, when Markle first spoke to Vanity Fair about their relationship in 2016, she pled for privacy, allowing them to get to know one another first. "I'm sure there will be a time when we will have to come forward and present ourselves and have stories to tell, but I hope what people will understand is that this is our time," she told Vanity Fair at the time.
But with the royal wedding, all that changed and the pair became a unified public figure. And they've never wavered in the image they present to the world. So in honor of their first wedding anniversary, here's a look at some of their sweetest moments from the past 12 months of wedded bliss.