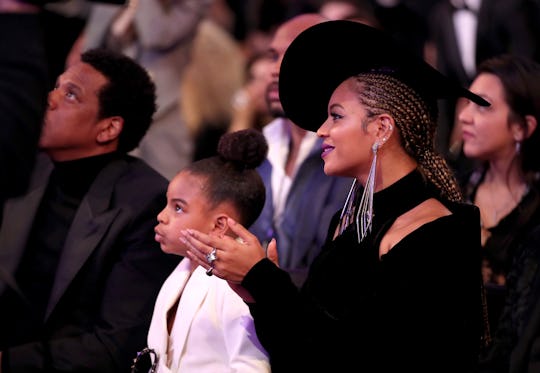 Christopher Polk/Getty Images Entertainment/Getty Images
Stop What You're Doing & Watch How Blue Ivy Adorably Stole The Show At Her Parents' Concert
Fans have spotted Blue Ivy at a number of her parents' On The Run II tour dates all across Europe ever since it kicked off earlier this month. But Blue Ivy dancing at Beyoncé and JAY-Z's concert over the weekend while in London is definitely the most memorable, and can totally be added to all of the other amazingly sassy things fans have spotted her doing out in public.
The 6-year-old is definitely all grown up and not afraid to speak her mind, which you have to respect. In the past, the world has been graced with Blue shushing her mom and dad at the Grammys (and making her mom hold her snacks in haute couture). Earlier this summer, she also told her grandmother, Tina Lawson, to put her phone away and stop taking video in a Paris theater. Lawson does it anyway, but you can hear little Blue saying, "you're not supposed to, Grandma." Blue Ivy knows what's up basically.
At Bey and Jay's London appearance this weekend, Blue was posted up in a VIP area close to the stage, dancing with one of her friends. At one point during her dad's performance of "On To The Next One," she remembers to make her dad's signature Roc Nation sign, as TMZ pointed out, and then got her friend to put it up, too. It's hilarious, not just because she helped everyone turn up, but mostly because it's a clear sign that dance parties with her pops are obviously *a thing* in the Carter household.
Just in case you can't make it out, Blue is putting her hands into a diamond shape, which is what JAY-Z and his Roc Nation artists first started doing a decade ago when the label first launched. The sign is to signify all of the label's albums "going diamond," or sell 10 million units, according to Hip Hop Wired. You'll still see JAY-Z and other Roc Nation artists use it to this day, although some people interpret the hand sign to mean that JAY-Z and Beyoncé are part of the Illuminati. But that's just corny, as the Queen herself has confirmed in "Formation."
Anyway, watching Blue throw her dad's sign makes my heart melt. And want to hang out with her more, because she obviously knows how to have a good time and be really clear about what she wants. Of course, we don't have any idea about what goes on in their household, but Blue and her dad seem to have a a particularly close relationship.
During an interview with David Letterman earlier this year, the hip hop mogul revealed that his daughter consistently makes him laugh and breaks his heart — usually all at the same time. According to E! News, he said:
I told her to get in the car the other day cause she was asking a thousand questions and we had to leave for school. And I got in the car and I'm faced this way — I'm just painting the picture of how healthy my children are at this present time — so we're driving and I just hear a little voice. "Dad." I turn around and she said, "I didn't like when you told me to get in the car the way you told me." She's 6! "It hurt my feelings." And I was like, "That's the most beautiful thing you've ever said to me."
If Blue wants something — whether it's her friend to dance properly or her dad to watch his tone of voice — she'll ask for it. The world could use a lot more of that kind of energy from young girls.
This isn't the first time Blue has showed an interest in her dad's music or career. Blue has appeared in his music videos, the visuals for this particular tour, and has been on a couple of her parents songs, including her dad's "Glory" and her mom's track, "Blue." On 4:44, her dad even let her freestyle for the first time.
Between knowing how to put a rhyme together and when to throw up the diamond sign, Blue is already primed to take over the family business if and when she wants to. She'll let them know when she's good and ready, to be sure.