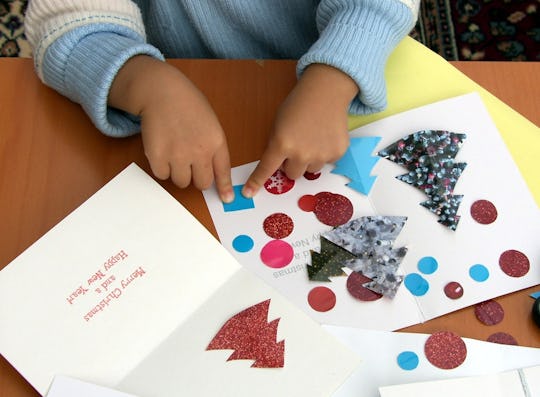 Shutterstock/Shenjun Zhang
What Do Teachers Really Want For The Holidays? The Most Popular Reply Is So Sweet
If you're like me, the same question plagues you every single December. You talk about it with your partner, with friends, with online strangers. You Google it. I'm speaking, of course, about what the hell to get your kid's teacher for the holidays. I'm on the record admitting I'm a totally crappy gift giver, so I figured it's best to go to the source. I recently reached out to educators to tell me what teachers want from their students for the holidays, because it's high time I got to the bottom of this.
Across the board, everyone told me that while gift are nice they are never necessary. So, really big caveat right up front: if you can't (or simply don't want to) buy gifts for whatever reason, no one is going to hold that against you (and certainly not against your kid). I mean... we all know teachers don't get into this gig for the over-the-top material rewards, right?
Another "across the board" sentiment was the idea that, above and beyond extravagant baubles, what really makes a heartwarming impression is showing that you recognize the extraordinary efforts educators put forth throughout the year. Let's be frank: we know how tough our one child can be, and a teacher manages, like, 20+ of them, so the effort is really and truly extraordinary. And they don't just manage them: they actually teach them how to do stuff. Like, during school hours, my child became a little human who can read and write and do math in his head. How cool is that?!
It's scary, sometimes, to hand over our children to the world, but damn if I don't feel better about it knowing what remarkable and dedicated people my kids' teachers are and have been. So at this time of reflection and love and, yes, gift giving, sending along a token of my appreciation feels like the least I can do for all they're doing for them.
Here are some of the things that can make an educator's holidays a little brighter (and some things that are best left of the shelf)...