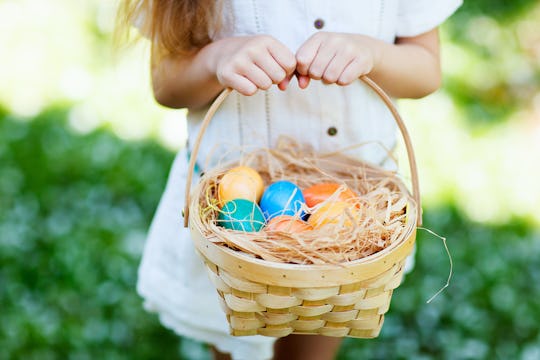 BlueOrange Studio/Fotolia
What To Put In An Easter Basket, According To 18 Parents
Where I live, winter often feels endless and desolate. But, around March, I begin to see the encouraging signs that spring is on the way. The tender shoots emerge from the cold ground. The birds sing just a little bit more brightly from their bear-but-budding branches. And on social media, dozens of my parent-friends ask each other what to put in their kids' easter baskets, so I preemptively asked other parents what they're putting in their kids' Easter baskets to give all of us some ideas.
Truth be told, there were a lot of repeats among the folks I asked, which I think is worth highlighting. I believe, deep down, that we all know that some of the more classic Easter basket items (small, spring-themed toys and candy) are sufficient. But in this Pinterest-perfect, triple-filtered InstaWorld we live in, it's easy to feel like we're not doing enough. Like we're never enough.
Guys. We're giving our kids a basket full of gifts and giving the credit to an imaginary bunny. That's enough in and of itself. And you're definitely enough, basket or no basket.
Personally, I like to "gift" items that I was going to wind up buying in the next couple weeks anyway. Bubbles (we go through approximately 47,000 gallons between April and September). Sidewalk chalk (which would last a helluva lot longer if my youngest would remember to bring it inside when she's done instead of leaving it out to get rained on). And one year I got my son Star Wars underwear, because he needed new underwear, and he thought it was the coolest.
So if you're wondering what that festive bunny should bring your kids this year, here's what other parents are going to be doing for their little ones this Easter: