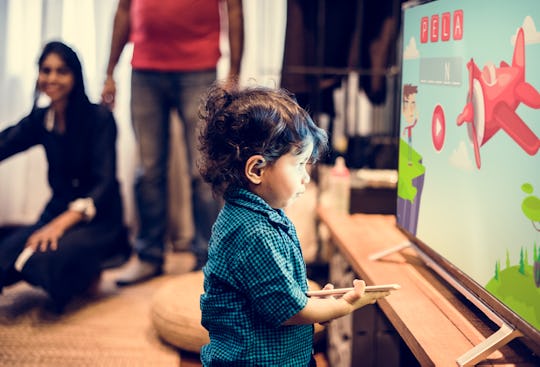 Rawpixel.com/Shutterstock
What Your Netflix "Continue Watching" List Says About You As A Mom
How did we watch TV before Netflix? More specifically, how did we exist as parents before Netflix? B.N. (Before Netflix) was no pausing to go tend to a crying baby, and there was no "watch whatever you want at 3:00 a.m." possibility. If your baby started crying you missed whatever non-pause-able action was happening in real time, and a 3:00 a.m. feeding meant you watched infomercials because, well, that's what was on. But we live in the glorious streamable future, where we can watch anything, so let's talk about what your Netflix "Continue Watching" list says about you as a mom. After all, we have that data and we can dive into it.
Let's also talk about the fact that while there may be times we're marathon-watching new shows, the fact of the matter is we're probably and more often than not re-watching familiar series over and over again. This isn't exclusive to parents, but I'd say it's probably more true of parents (particularly new parents or parents with very young children) than of the general population. For starters, a show we already know can weather the storm of interruption, and children are nothing if not a constant interruption, bless their wee hearts. So if your infant starts crying in the middle of the episode where Ross gets a new couch, you can step away and know that he's going to say "Pivot! Pivot! Pivot!"
For another thing, the part of a new parent's brain that takes in new information is working overtime as it is. There's so much to learn about parenting and your child. So by the time you get to sit down and watch TV you literally can't retain, or even decipher, an ounce of new information. You don't need to follow some intricate plot, you need to have some sort of background distraction that won't frazzle you.
So here are some of the shows that get us through... and what they say about who we are and where we are in our parenting journey: