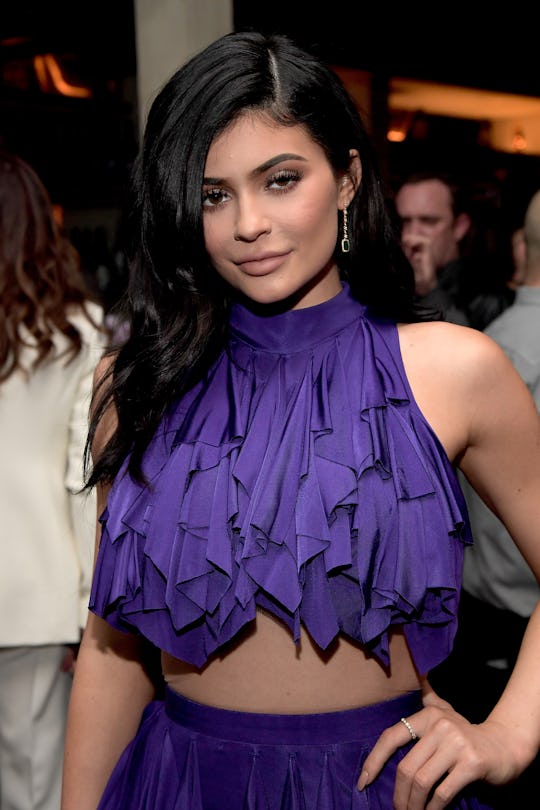 Charley Gallay/Getty Images Entertainment/Getty Images
OK, Seriously... Where In The World Is Kylie Jenner?
As much as I know way deep down that this is none of my business and I should just leave the woman alone, I'm starting to worry. Like, honestly, where is Kylie Jenner? Ever since rumors surfaced back in September that she was pregnant with her boyfriend Travis Scott's baby, Kylie has been laying way lower than usual. The youngest sister has always been a little shy and careful about her image, but when she didn't come right out and confirm or deny the pregnancy rumors, people started to speculate.
Earlier this fall, she appeared to enjoy trolling her fans on social media, by posting pictures that some took as clues to an alleged baby's sex (though they could never decide on one) and she and her sister Khloé Kardashian, at the time also rumored to be pregnant (but has since confirmed), made a YouTube video that I watched six times just to see if they were giving away any hints.
She showed up once in November to slam people about Photoshopping pictures that claimed to be "baby bump" pics and then she posted a shot of her Christmas tree and a bunch of old throwbacks and pics that advertised her beauty line.
When she didn't show up on the family's Christmas card, I wasn't too worried, since I was sure that the second half of Keeping Up With The Kardashians would jump right to filling us in about the 20-year-old's life these days. But now that we're two episodes into the season, Kim just welcomed a baby girl this week, Khloé's confirmed her own pregnancy, and the paparazzi might have caught her at CVS this weekend, well, I don't know what to think any more.
Not only is Kylie glaringly absent on social media these days, she hasn't been filming either for KUWTK it seems. On Monday's episode, she was nowhere to be found. For one, she wasn't at the reveal party for Khloé's pregnancy, though they did FaceTime her after the announcement was made.
She said, "Are you kidding because I'm going to cry. I'm so happy for you." Now, we could totally read into this way too much. Sure, Khloé and Kylie have always been really, really tight, so it makes sense that she shed a tear. But maybe she's super emotional because she knows she's pregnant, too, and their babies will be so close in age. Hey, it could happen.
In another phone call to her mom, Kylie also reports that one of her employees was trying to sneak a picture of her in her very own kitchen, apparently with the intent to sell it. Now, that would be upsetting in any condition — when a celeb hires personal staff, privacy is one of the job requirements.
But, because these pregnancy rumors haven't been dealt with, it's also easy to take her angst at a photo being released as a sign that she doesn't want to lose control of the narrative of her supposed pregnancy. Or that she's squirreled away for some other reason, though what that could be, I have no idea.
No One Else Does Either
Of course, there are tons of anonymous sources that have reported to media outlets that Kylie is, in fact, pregnant, and very happy about it, but choosing to keep things private as she nests, as Us Weekly reported. Or the complete opposite, and Kylie and Travis are broken up and fighting and she's hiding out so no one can see how sad she is. Without official word from the family, it's getting easier and easier to believe whatever I read, even though I know I should know better.
Frankly, wherever Kylie is right now is strictly her business. But I do hope she comes out soon and addresses all of these rumors, if only because I could use some fresh Instagram content.
Check out Romper's new video series, Romper's Doula Diaries:
Watch full episodes of Romper's Doula Diaries on Facebook Watch.