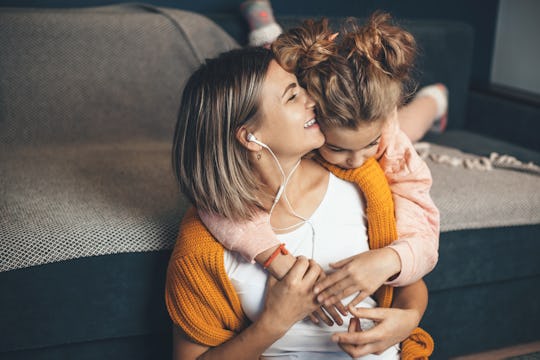 Shutterstock
36 Songs About Being A Mom You Need On Your Playlist Right Now
These lyrics capture allll the emotions.
Regardless of whether it's close to Mother's Day or not, every day of the year is the perfect chance to take a few minutes and reflect on the joy of moms. And to aid in that, these 36 incredible and heartwarming songs about being a mom or having a mom should be added to your playlist right now (and, TBH, you may also want to grab a box of tissues). Some of these songs about motherhood are ballads, some are pop bops, and all are sweet explorations into how being a mom, or having a mom, changes your life forever.
Artists ranging from BTS and Taylor Swift to the Chicks and Bruce Springsteen have taken time in their successful and booming careers to put the spotlight on the women who gave them their lives and raised them. While many of the singers on this list below chose to celebrate their own mother, a few artists have put to music what it feels like to become a parent: see Halsey, Beyoncé, and Brandi Carlile.
So without further ado, have a look at these musical choices, make a playlist on your favorite streaming service to listen to during your commute or downtime at home (and, hey, send it to your mom while you're at it!), and just let these motherhood songs play on repeat.
Whether they're written by, for, or about moms, all of these songs have the ability to touch upon something largely universal: motherhood and motherly love. So the next time you're deep in your feels about either being a mom or having a mom, queue up any of the songs above.