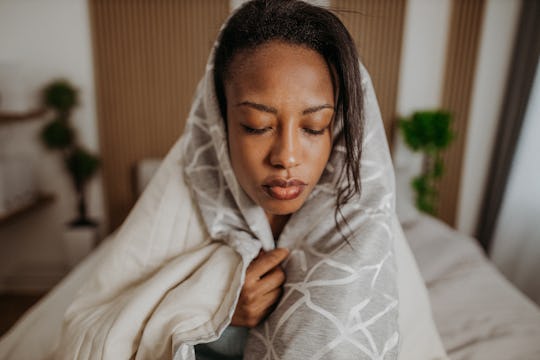 milan2099/E+/Getty Images
These Flu-Like Symptoms Can Also Be Signs Of Early Pregnancy
Here's how to tell the difference.
Everyone is hyper-aware of potential flu and Covid-19 symptoms these days — everything from worrying about small coughs to suddenly wondering if you have a headache from drinking too much coffee or because you have a cold coming on. Since flu symptoms can be so common to other changes — like, for example, pregnancy — it can be hard to tell what exactly is going on in your body. As it turns out, some flu-like symptoms and pregnancy symptoms can feel alike, making it hard to tell what is making you feel miserable, which doesn't exactly bode well in this day and age of viruses aplenty.
There are three big overlaps when it comes to major symptoms of the flu and how they can be similar to early pregnancy: fatigue, nausea, and headaches. "Feeling exhausted and run-down are symptoms that can overlap in pregnancy and the flu," Dr. Kameelah Phillips, M.D., board-certified OB/GYN and founder of Calla Women's Health, tells Romper.
You might feel like it's harder to get out of bed in the morning, or be desperate for naps throughout the day. The Centers for Disease Control and Prevention (CDC) notes that fatigue is definitely a symptom of the flu — it's not as common in typical colds — and people with the flu often feel like they can't sit up. At the same time, feeling extremely tired is also one of the most common signs of early pregnancy. Your body is gearing up for a ton of changes, and all your extra calories are going to your uterus, leaving the rest of your body lacking in some much-needed energy.
Nausea and vomiting are stereotypically telltale signs of pregnancy, but they are also common flu symptoms. "Loss of appetite, which is also a symptom in influenza, can also be seen in pregnancy as a result of nausea and vomiting," Dr. Tami Prince, M.D., OB/GYN, tells Romper. The CDC notes that vomiting and diarrhea can be symptoms of the flu, too, but are more often seen in children rather than adults.
Aches and pains are notorious flu symptoms, as are headaches, according to the CDC. Head discomfort can also be common in early pregnancy, as mild but frequent headaches can be a result of your body's increasing blood volume.
Overall, if you're feeling sick, you should look for other signs of influenza like muscle aches and fever before jumping to conclusions. And before you start thinking about how to handle a pregnancy, you need to figure out if you're pregnant in the first place (or simply just under the weather). For more on what differentiates flu, early pregnancy, and Covid symptoms, read on.
All in all, the flu, Covid, and early pregnancy can present some overlapping symptoms, and it's not always easy to distinguish between them. No matter what, getting your flu and Covid vaccines are incredibly important in protecting both you and your baby from viruses. And as with all potential illnesses, if you are feeling sick and have doubts about why exactly you're feeling that way, talk to your physician — and maybe get some comforting soup ready!
Study referenced:
Trostle, M. E., Aguero-Rosenfeld, M. E., Roman, A. S., & Lighter, J. L. (2021). High antibody levels in cord blood from pregnant women vaccinated against COVID-19. American journal of obstetrics & gynecology MFM, 3(6), 100481. https://doi.org/10.1016/j.ajogmf.2021.100481
Experts:
Dr. Kameelah Phillips, M.D., board-certified OB/GYN and founder of Calla Women's Health
Dr. Tami Prince, M.D., OB/GYN
Dr. Daniel Roshan, M.D., OB/GYN
Risa Klein, certified nurse midwife and licensed OB/GYN nurse practitioner
This article was originally published on