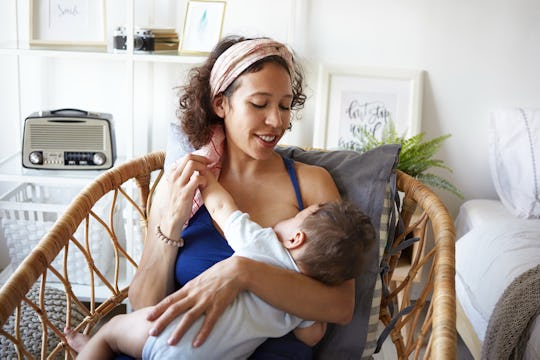 shurkin_son/Fotolia
10 Easy Things You Can Do Every Day To Increase Your Confidence In EBF
Finding success in exclusive breastfeeding takes a lot of things, including but definitely not limited to luck, hard work, time, energy, support, and confidence. Now I can't help you with the first four things, and when it comes to support I, as a stranger on the internet, can only do so much. But the confidence? Girl, I got you covered with a few pro-tips on very easy things you can do every day to increase your confidence in exclusive breastfeeding.
It's reasonable that confidence can be hard to come by when you're exclusively breastfeeding, and for a variety of different reasons. Maybe you're having trouble maintaining your supply and you're worried. Maybe you feel completely drained in every way possible. Maybe it really hurts and you don't know why. Maybe someone is making you feel bad about yourself because "no one needs to see that." Or perhaps you're just still feeling your way through this whole "motherhood" thing and you don't really have a great sense of who you are anymore.
Regardless of the reasons why you're feeling any amount of self-doubt, let me just say the following: Mama, you're doing great! You are a milky and extraordinary goddess! You are doing it, even when the going is really tough! You are an inspiration! You should be proud! People should be doing elaborate cheerleading dances in your honor!
Like I said, there's only so much I, as an internet stranger, can do in terms of support, but I hope this goes to show that there are those of us out there (including people you know, and people you don't even know) who recognize your struggle and are rooting for you. And if this doesn't make you feel more confident, maybe some of these exercises will: