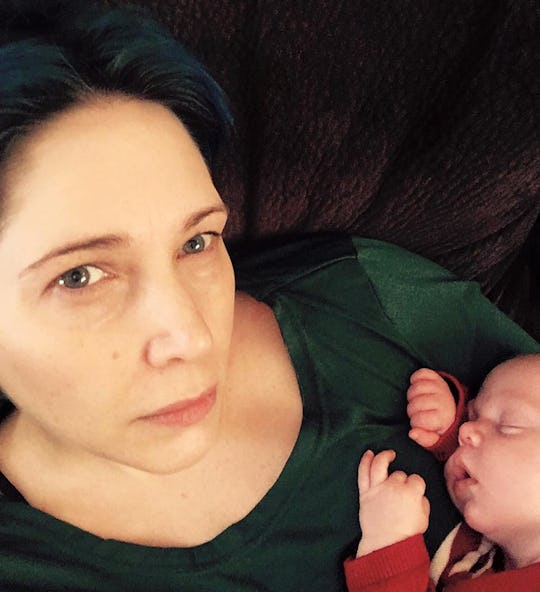 Courtesy of Steph Montgomery
10 Emotions Your 1st Post-Baby Fight Will Leave You With
The first few weeks after I gave birth are pretty much a blur, full of tense moments, heightened emotions, pain, and exhaustion. There's a reason sleep deprivation is a torture technique. Seriously, everything is worse when you haven't had enough sleep. When you are navigating these stormy waters with a partner, even the most loving couple is bound to argue, often about something silly or stupid that usually leaves you laughing after the fact. There are a ton of emotions you'll feel after your first postpartum fight, which seem ridiculously more intense when you're recovering from the act of growing and birthing a human being.
After my first two children were born, my then-husband (now ex-husband) was pretty much absent. He worked a lot, and even took a road trip with a friend three weeks after our second child was born. If you think that makes him an absolute ass, you are totally right. We fought about everything, mostly his absence, resulting in me shouldering a majority of the parenting responsibilities by myself, which was totally unfair. Our relationship was completely toxic. I am so glad I finally felt empowered to leave, because even single parenthood wasn't as stressful as co-parenting with him.
This time around I thought things would be different. I love my husband, and he is a great partner and a great dad. Turns out, even couples in loving relationships fight when they are figuring out how to adjust to another human being's presence in their lives. The good news is this is perfectly normal. You did just grow a human in your body and, as a result, you're experiencing tremendous physical and hormonal changes. Your partner can't possibly understand how those changes feel, and they're likely tired and stressed out, too, especially if they aren't used to you not being able to do all of the things you used to for your family. Honestly, I can't even remember what our first postpartum fight was about.
If you can get passed these tense moments, and the myriad of emotions you'll feel afterwards, you might find that your relationship will be stronger than before. In fact, you'll probably realize you can laugh about it all when you look back and remember that first post-baby fight and how truly unnecessary it was. Until then, here are some emotions you'll probably end up feeling: