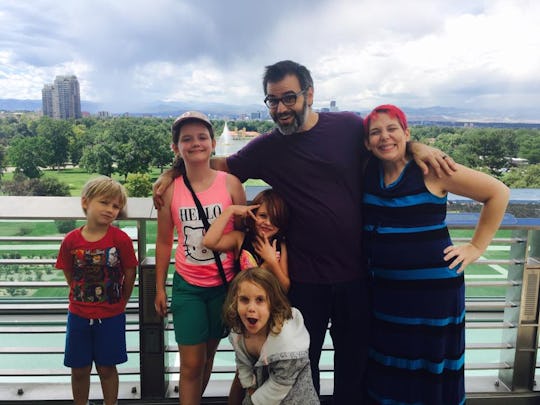 Courtesy of Steph Montgomery
10 Small-Family Struggles That Make Big Families Go, "Awww, How Quaint"
Being a mom is without a doubt the hardest thing I've ever done. I wish I could say that it gets easier, and I have to admit that in some ways it does, but it also gets harder. Like, so much harder. And the more kids you have, the more challenges you face. I can tell you, first hand, that having five kids is definitely not for the faint of heart. So when I hear parents share their small family struggles I can't help but get, you know, kind of mad. Like, everything is relative and, yes, it's difficult for all of us, but my dude: you have no idea what "difficult" really means.
Sometimes having a huge family is just as hard as it sounds, which is to say it's really damn hard. It makes me think that the struggles small families face are kind of, you know, adorable. Now, don't get me wrong, I fully understand that life as a mom is challenging regardless of your circumstances. I remember the hell that is having a baby who won't sleep, a toddler who throws epic tantrums in target, and the hectic life of morning routines, bedtime, and everything in between.
But now that I'm a mom of five, some of those small family struggles seem silly, and even a little overblown. I can tell you that, looking back, I didn't know the true definition of tired until I tried, unsuccessfully, to put five kids to bed simultaneously. Managing a solitary toddler's social and extracurricular schedule sounds like a damn pleasure cruise now that I have to manage to get five kids where they need to be on a daily basis.
This isn't me having regrets about the size of my family. There are a lot of benefits to having as many kids as I do. My life is full of joy and noise and love, and in a way that is truly fulfilling. But, sometimes, I really miss the "chaos" of having one kid. Sweet little naive me had no idea what chaos really was, and sometimes I yearn for that kind of blind optimism and naïveté. So, while I always try to feel empathy or find some words of wisdom for my mom friends of one or two kiddos, on the inside I can't help but chuckle a little at how easy they have it... relatively speaking.