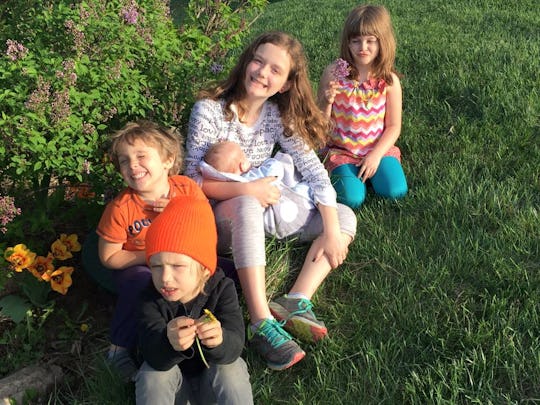 Courtesy of Steph Montgomery
I'm A Mom With A Big Family & Here's What You Get Wrong About Me
Not a day goes by when someone doesn't mention how big my family is. I'm not exaggerating. Sometimes those comments are nice, like when someone says, "Your house must be full of love." Other times, however, they're just insulting. I mean, what am I supposed to say when some random stranger asks, "Don't you know how those things are made?" Hell if I know, but I do know I'm over the assumptions people make about moms with big families. Because not only are those assumptions usually wrong, but they're horribly rude.
I guess I sort of get it. I mean, before I had kids I use to judge big families, too. When I saw "those" moms I would think, "I bet she's religious," or, "I wonder what her life is like," and even, "Doesn't she know about birth control?" I meant well, I think. I was a feminist, so I wanted to make sure everyone was able to choose when and whether to become a parent. Hell, before I became a mom I wasn't sure I wanted any children, let alone five. I changed my mind, though, and I'm honestly glad I did.
But now that I'm here — in a too-small house with five kids, three cats, five fish, a husband, and a dozen dying houseplants, give or take — I understand how wrong I was to judge other women with big families, or assume I knew what life choices they had made in the past. But I do find some small comfort in the fact that, at the very least, I never said those things out loud so those moms could hear me. So, when I say that I am tired of being pigeonholed and misunderstood as a mom with a big family, please understand that I used to make the same mistakes. This isn't me being judgmental, it's me being exhausted.
Because here's the thing: you don't know me or my family, and you really can't tell much about me by simply looking at the number of kids I have. I like my life, and while there are days where I am tired beyond belief, and days when our house is so loud that I think I might lose my mind, I'm thankful for my big, loud, loving family. So I think it's time to set the record straight, because I have a feeling most of you have the wrong idea about moms like me.