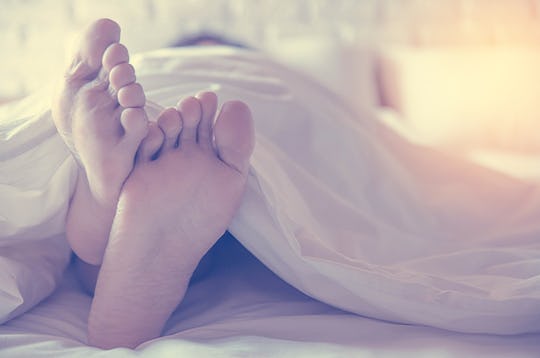 Fotlia
10 Things No One Will Tell You About Masturbation After Having A Baby, But I Will
I'd like to say that I've become more candid since having a baby (I mean, once someone poops in your hand, all bets are off) but that would be a lie. When it comes to sex — or any other aspect of my pre-baby life — I was open, honest, and unapologetic. After all, sex is a great thing and a natural thing and when done safely, respectfully and consensually, it's a freakin' amazing thing. Which is why there are things no one will tell you about masturbation after having a baby, that I have no problem dishing about. We're all adults, right?
I credit masturbation to helping me learn to love my postpartum body, get over my irrational fear of a post-baby vagina (seriously, you guys. They're just fine. You don't "ruin" them. They're incredible body parts that "bounce back" like absolute champs.) and becoming more comfortable with the idea of postpartum sex. I had a traumatic pregnancy, labor and delivery, so feeling sexy was the last thing from my mind and, honestly, the last thing I thought I was capable of feeling (potentially ever again). It took me some time, to be sure, but a few masturbation sessions where I was able to rediscover myself, take time to focus on just myself and, you know, feel awesome was so, so clutch. I finally felt like my body, after going through so much change, was something I recognized and was connected to.
Sadly, however, our culture has yet to shed the masturbation stigma long enough to talk about a very normal part of being a sexual human being without giggling incisively like we're stuck in some middle school sex-ed class. Enter, um, me. Here are just a few things I think every postpartum woman should know about masturbation, because having a baby doesn't mean your needs go out the window. Get yours, you hardworking mom, you.