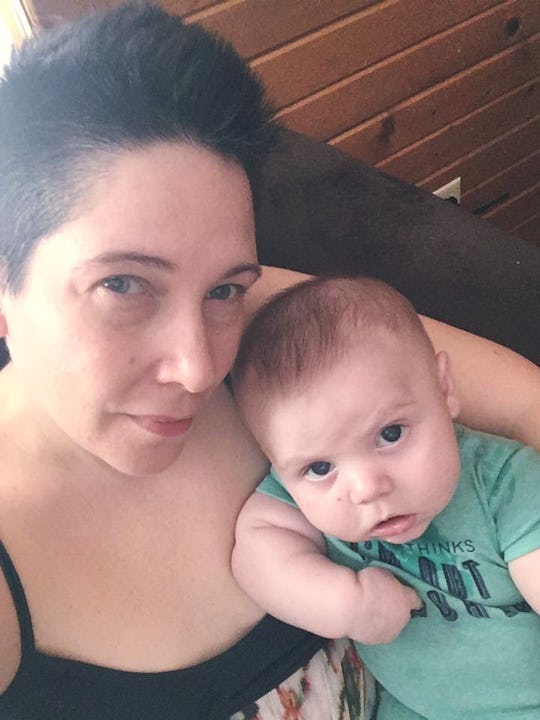 Courtesy of Steph Montgomery
10 Ways The 4-Month Sleep Regression Tried To Break Me
Before you have a baby, people warn you about how little sleep you'll get once they arrive. They make jokes like, "Better sleep now, because you will never sleep again!" and buy you coffee and concealer as a shower gift. But, while I was prepared to lose sleep in the newborn weeks, no one thought to warn me about the 4-month sleep regression. You see, the 4-month sleep regression tried to break me, and I may not make it out alive. At least not without lots and lots of coffee.
My first two babies didn't really experience a 4-month sleep regression, or a period of crappy sleep after sleeping through the night consistently. At least, not that I noticed, because they didn't sleep through the night consistently until they reached their first birthdays. So, I got used to babies and toddlers and me never sleeping. I often joke that motherhood is like a scientific experiment to see just how little sleep a human can endure and stay sane. For me, it's about three hours. (At least, I think I'm still sane. Considering that I decided to have another baby after the first two, the jury might still be out on that question.)
Then I had my youngest. After a few weeks of frequent nighttime feedings, he became such a good sleeper. So good, in fact, that I had to stop posting about it on Facebook because my mom friends were starting to hate me. I realize now that his sleeping through the night early was not a good thing at all. You see, about two weeks ago the 4-month sleep regression snuck in and attacked me like a ninja. It was so much worse than when he was a newborn, because not only did it catch me by surprise, but I'm back at work, have less time to sleep during the day, and actually have to function. It is so hard, you guys. I think I may die, because the 4-month sleep regression is killing me. For real.