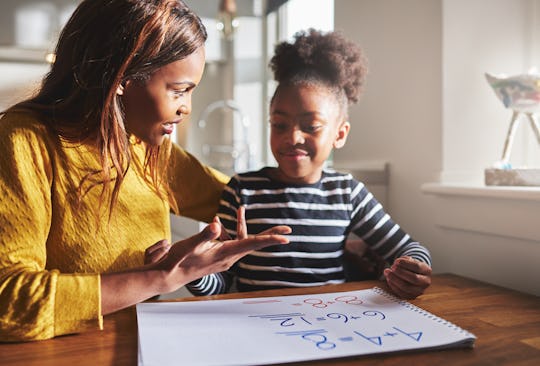 11 Things To Ask Your Kid About Their First Week Of School To Bring You Closer Together
As a kid, I loathed hearing, "What did you do in school today?" It was particularly irksome because my mom was a teacher and she knew what I did all day: sit at my desk and learn stuff and try not to get caught passing notes. Discussions of school and homework (especially once I was in middle school) only served to drive a wedge between myself and my parents. They were adults, so of course they would side with the faculty and administration. Now that I'm a mom, I've come up with some alternative things to ask kids about school, because I want my fourth and first graders to know that I'm on their side. I want them to know without a shadow of a doubt that I care about how they feel when it comes to school, because school will be their lives for the next decade and a half.
There was only one time I distinctly remember my mom going to bat for me. As an English teacher herself, she agreed with me that my ninth grade English teacher had incorrectly taken points off my essay for starting a sentence with "Because." It's one thing to write a fragment starting with that word, but my sentence was a full one, with a cause and effect construction: "Because of [x], you get [y]." The reason why this incident sticks out in my mind is because it was one of the few times I really felt like my mom and I bonded over something school-related. Otherwise, it was all desperate pleas for information (her) and one-word responses spit out with a put-upon attitude (me).
I'm determined to foster better communication between me and my kids than the kind I tolerated with my parents. That means coming up with new questions that encourage them (trick them?) to open up to me. The more I hear, in their words, about their day, the better parent I can be and the better I can support them in their academic endeavors. During this first week of school, it's been crucial to get a handle on how things have been going because I want to lay the groundwork down for them to succeed and, more importantly, be able to come to me for help and emotional support throughout their educational journey.
So here are some things I've come up with to ask my kids about their first week of school, and, so far, they've been working to bring us closer together: