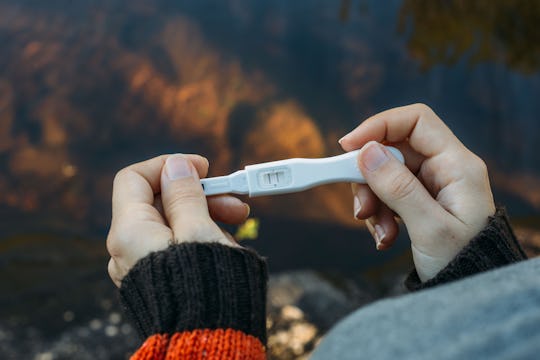 Fotolia
12 Thoughts Every Woman Has Before Telling Her Partner She's Pregnant
I spent the majority of my adolescent, young adult and adult life actively trying to avoid pregnancy. In fact, being able to tell someone that, no, I was thankfully not pregnant was a pretty damn incredible feeling, especially when I knew I wasn't ready, willing or able to be a mother. Then I met someone I knew I could parent with, and as we built a life together we realized we wanted that life to include children. Before I knew it, I was thinking the thoughts every woman has before telling her partner she's pregnant; slightly scared, relatively nervous and so very excited to inform my partner that our entire lives were going to change.
Of course, my experience is not universal in any capacity. In fact, I have had the "I'm pregnant" conversation before, but under very different circumstances. When I was 23 and told someone I was pregnant, I wasn't excited or anxious in that happy, this-is-going-to-be-an-incredible-journey kind of way. I was just terrified and sad. I didn't want to be pregnant, I didn't want to be pregnant with this particular person, and the thoughts that flooded my mind before our inevitable conversation were nothing like the thoughts I had years later, when I told my now-partner that I was pregnant. Not every pregnancy is a "blessing" and not every woman is happy when she realizes she is pregnant. I've experienced both ends of the "pregnancy coin," and the thoughts a woman experiences when she realizes she has an unwanted pregnancy are nothing like the thoughts a woman has when she realizes she's pregnant, and actually decides she wants to be a mother. Of course, there's also situations in which a woman wants a baby, but her partner doesn't, or visa versa. I can't begin to imagine what thoughts go through a woman's head when she knows the choice she is going to make with her own body (to either terminate or keep a pregnancy) will be a choice her partner doesn't support. If you are that woman, I hope that you get the support and help that you not only need, but deserve.
So, having said all that, I can guess that when you are in a healthy relationship and you and your partner have discussed pregnancy as something you both (individually, and as a couple) can not only handle, but want to experience, you'll have a few thoughts going through your mind before you tell your partner the good news. Again, every woman is different, but I also like to think that we are somehow connected by these shared experiences, even when they can vary so greatly.