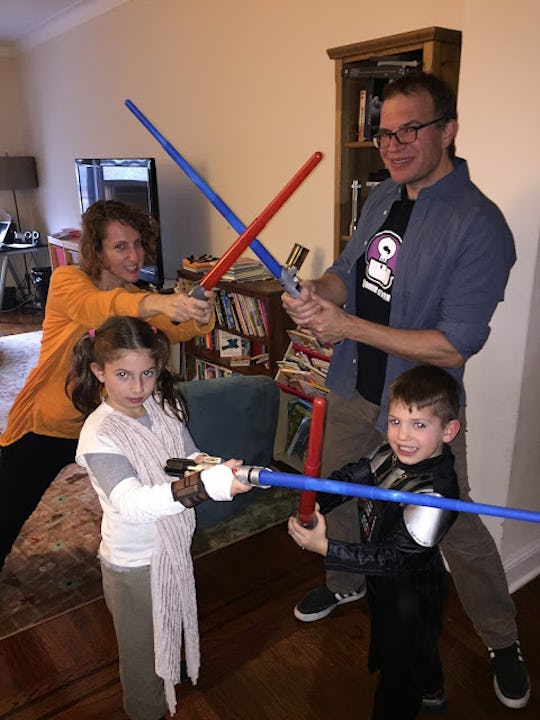 Courtesy of Liza Wyles
13 Signs You're Raising A Jedi, And Totally Winning The Parenting Game
When I called one of my best friends shortly after the birth of my first kid, she immediately asked, "Is it a 'Luke' or a 'Leia'?" She knew how much Star Wars means to fans like me, and the likelihood of me naming my children after Star Wars characters was pretty high. I didn't go that far, for better or worse, but my equally Star Wars obsessed husband and I are unapologetically raising Jedi children.
For starters, we showed the kids the first trilogy when they were young. Like, really young, as in before my older one could read. That's quite a commitment, if you think about it and if you ask me. Reading the scrolling text in the prologues of each film out loud with every screening (and there have been many) is a major time investment. My husband and I both entered our relationship, over a decade ago, with our own Star Wars paraphernalia — action figures, books, branded coffee mugs — and having kids means we've only added to our collection over the course of birthdays and holidays. By "holidays," of course, I mean Mothers' Day when the kids gifted me with a Princess Leia bobblehead one year. I mean, they're just the best.
Other than the Star Wars swag around our apartment, our kids themselves are evidence that all things Star Wars are deeply engrained in our family dynamic. My daughter models her imaginary play on the adventures of Rey from Star Wars: The Force Awakens, and my son punctuates all this speech with blaster sounds. Of course, there are other hints we're getting from our kids that tell me we're taking this Star Wars thing to another level. While they may appear to be typical behaviors from an 8 and 5-year-old, I interpret these as signs I'm raising Jedi and, yes, I'm proud.