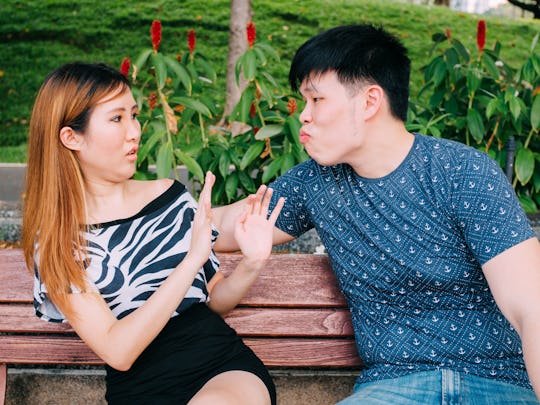 twinsterphoto/Fotolia
14 Single Moms Reveal The Worst Thing They Heard After Telling Their Dates "I'm A Mom"
Dating as a single mom included some of the most frustrating, awkward, and humiliating times of my adult life. Not only was it hard to put myself out there, but I had limited time and energy to devote to dating. So it really sucked when the people I dated or chatted with online ended up letting me know that they thought me being a mom was a bad thing. You would not believe the responses dates gave after hearing, "I'm a mom." The nerve of some people, really.
Sadly, in my conversations with other moms I've learned that I'm totally not alone. It seems that rather than giving out high-fives to single moms, some prospective dating partners, primarily men, will let utter bullsh*t fall out of their mouths. I'm not joking, you guys. In fact, some people feel so strongly about not dating moms that they felt perfectly fine telling the women sitting across from them how they felt about it, and right out of the proverbial gate. On the bright side, if you learn how strongly a date feels about it before and/or during your first date, it'll be easier for you to essentially dodge a massive bullet. On the downside, you might not find out until you've put on deodorant, lipstick, and cute underwear. What a waste.
It seems that some people have really strong feelings about dating women with kids. So strong, in fact, that when I asked other moms to share their experiences online, a guy decided that he had to share his views on the subject, too. God forbid women discuss their experiences without a man weighing in. This is why we can't have nice things, people.
So, if you want to know some of the things single moms have actually heard from their dates when they found out they were moms, and one single 40-year-old guy's explanation why men say sh*tty things on dates, read on.