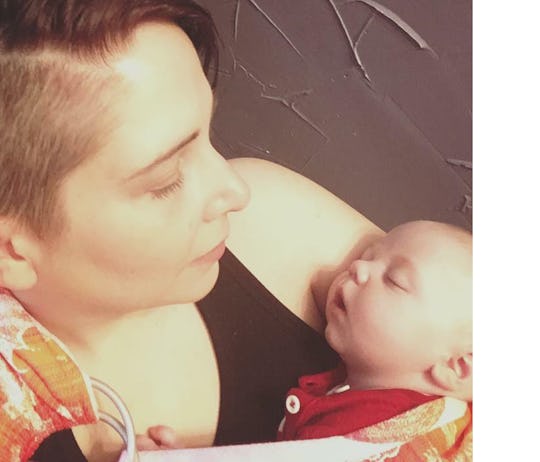 Courtesy of Steph Montgomery
23 Moms Share Their Secret, Favorite Part Of Maternity Leave
For me, maternity leave was bittersweet. I was hormonal, sore, sleep-deprived, and depressed. I couldn't seem to lose the baby weight, struggled with breastfeeding, and was so unmotivated. However, despite the many WTF moments I experienced, there were awesome parts, too. I loved the private moments I don't wan't to forget, and the guilty pleasures that come with caring for a newborn. In my conversations with other moms, I've learned that most of them had a secret favorite part of maternity leave, too. Most involved binge-watching Netflix and not having to wear pants, which proves that new moms know how to live their best lives. For real, pants are so overrated.
Recovering from childbirth is no joke, and if you are fortunate enough to get maternity leave, you learn that there's really no wrong way to do it and no shame in doing what you need to do to make it through the newborn phase. Some of us cherished spending our days snuggling with baby and seeing if we could watch all 13 seasons of Grey's Anatomy in one sitting (guilty as charged). Others enjoyed having extra free time to read, work out, and figure out how to be a mom without having to juggle the responsibilities of work, too. For others the best part of maternity leave was being able to get some needed perspective about motherhood, their careers, and their relationships. Well, at least as much as they could between feedings and diaper changes.
A few moms agreed to go on the record and share their favorite parts of maternity leave. Read on, but only if you promise not to tell anyone (especially the part about no pants).