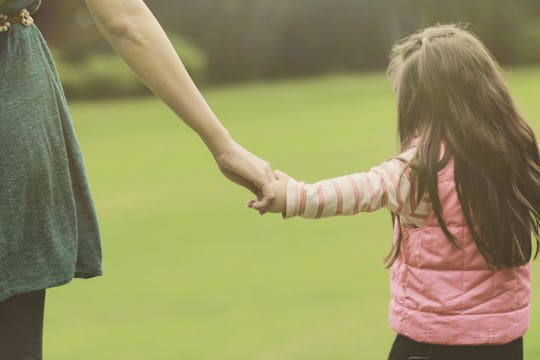 I love photo/Shutterstock
6 Things People Need To Stop Saying About "One & Done" Moms
When I was 24 and found out I was pregnant with my now-5-year-old, most of the people in my life thought having even one kid was an incredible endeavor. I wasn't necessarily someone who had grown up with parenthood as this huge milestone I needed to reach. I couldn't just as easily decided not to become a mom, and I'm pretty certain I would've had an otherwise full and rad life. But I did have a kid, and he's completely great, and I love being his mom. There are some things people should stop saying about "one and done" moms, though, mainly that we're somehow missing out. I mean, from the moment my son was born I had almost no doubts that he would be an only child, and to this day that decision hasn't left some two-kid-shaped whole in my heart. It's just that, well, only recently has that started being a decision that begs commentary from people in my life and also complete strangers.
As it turns out, being a "one and done" mom is not generally something that people just accept without question. In fact, they have a lot of questions, and holy hell are they not shy at all about hitting you with them. And the questions about having "only" one kid might not be so bad if they weren't so damn loaded with heavy implications about how we feel about ourselves and our kids. It's honestly a little shocking that people feel comfortable making such massive assumptions about such an important part of someone's life, but ask any "one and done" mom and you will get instant validation that, yes, people are extremely comfortable doing exactly that.
So, if you don't want to be one of those aggressively intrusive, offensive, and presumptuous people, maybe just totally opt out of saying any of the following — or asking questions that, when unpacked, leave these implications scattered around — to any one-and-done mom you encounter.