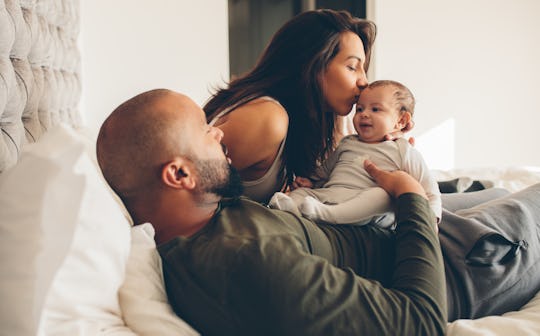 Jacob Lund/Fotolia
7 Stereotypes About Marriage After Having A Baby That Are Totally True
From self-image to sleep-deprivation, to watching as your new baby disrupts your schedule, grabs everyone's attention, and impacts your relationships, change is the name of the new-mom game. So, of course, your marriage will change, too. You can tell everyone you're a "united front" and "in this thing together," but let's be real — there are some stereotypes about marriage after having a baby that are totally true, no matter how much you wish they weren't.
My relationship took a pretty big hit after our first child was born. My partner and I were both clueless, overwhelmed, exhausted, and, frankly, a little arrogant about parenthood and how "seamless" our adjustment period would be. Reality hit us pretty fast, though. I mean, in case you haven't heard, parenting is hard. So before we could wrap our minds around our new reality, we were forced to come to terms with how our marriage had changed now that we were parents.
You'd think we would have learned by the time we had our second child, and were at least prepared for our marriage to change again. Yeah, we weren't. Instead, we bickered, we had less sex, we barely spoke, and we never left the house for a hot date again. In other words, we embodied the "marriage after baby" stereotypes we swore we wouldn't become. Here are some of those stereotypes that, at least in my case, are 100 percent true.