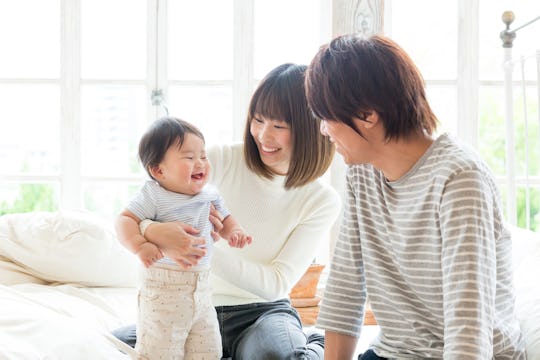 Fotolia
7 Thoughts A New Mom Has When Her Baby Looks Just Like Her Partner, And Nothing Like Her
While my firstborn didn't start resembling me until she was about eight months old, she didn't exactly look like her father either. When my son was born, however, it was like I birthed a mini-version of my husband. I didn't exactly feel great about that, like most moms who realize their babies look more like their partners than them. My husband was definitely proud. I felt let down.
I had hopes of passing down only our favorite qualities to our kids. My husband's eyes. My hair. His athletic ability, my parallel parking skills. However, there is no sure outcome when you combine two people's genes and if parenting has taught me anything, it's that expectations and reality are two totally different worlds. Expectations: my kids are adorable versions of the most beautiful parts of us. Reality: you get what you get and you don't get upset.
A few hours after my son's birth, when the look of a gnarled tomato gave way to a plump and perfect infant, I scanned him head-to-toe for any sign of myself. Nothing. His nose and mouth and the geography of his features on his face were undeniably akin to his father's. As his hair grew in, it was like his dad's. As his baby fat started melting away, the sinewy build of his father was noticeable. Everyone says his sister looks like me, and I don't see it. I guess I should hold that thought close, though, because I will never hear it said about my son.
I'm not that upset about it, anymore, just a little dismayed. I still remember what it felt like to hold a newborn who looked nothing like me, and everything like my partner, and here were some thoughts I had in those moments: