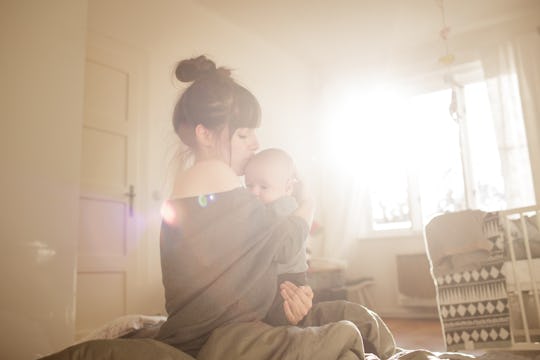 Jan Faukner/Shutterstock
8 Postpartum Moments That Prove You've Got This Mom Thing Under Control
There is nothing quite as scary or more uncertain than the moments after you bring your newborn home. It's not atypical to wonder how anyone does it, or how anyone has ever done it, because holy sh*t this parenting thing is hard. But then, almost before you know it, you realize you're doing it. Without even thinking, you're raising another human being. Sometimes it takes key moments in those early newborn days to truly highlight just how well you're doing as a new mom. So I say look out for those postpartum moments prove you've got this mom thing under control, new mom. They will be what pushes you through the first year (read: every single solitary year) of motherhood.
I've generally been confident in my ability to read up on a subject, study my heart out, and then perform well on any test of the material. But if handling a newborn was the test of what I'd learned from reading about motherhood, I failed miserably in those first two weeks. I had read plenty of information on what to do with a new baby, but when I had my baby in my arms it was like all of it trickled out of my brain. I felt completely out of control and unworthy. I deferred to my partner in almost everything.
When my partner went back to work a week after I'd been home after my C-section, I felt like there was no way I could do this alone all day long and until my partner came home at 8:00 p.m. at night. It turned out that the way to build confidence is in doing the thing you think you can't do and proving yourself wrong. I could handle my baby just fine by myself. I could do all the things I thought I needed assistance with. Moment by moment, I taught myself that not only did I have this mom thing in control, I was also pretty damn good at it.