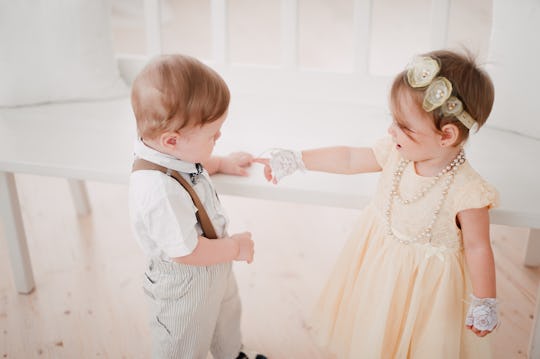 dashamuller/Fotolia
Here's Why I Refuse To Joke About My Kid "Marrying" Another Kid
It seems like people start joking about who their kids might marry even before they are born. They buy cute onesies that say "future princess" and "lady killer," call their kids "heartbreakers," and joke about their kid marrying their BFF's kid like it's no big deal. I think it is a big deal, though. In fact, I flat out refuse to joke about my kid "marrying" another kid. It's gross, objectifying, and not OK with me.
That's not to say I'm not somewhat understanding. I think most of us hope that we will at least like the person our child eventually marries (if they decide to get married at all). In fact, I have to admit that it's lovely to dream about my child growing up and marrying my BFF's child. But, here's the thing: I don't get a say in my child's future romantic relationships. My child can marry whomever they want, or not get married at all, and I don't get to say anything about it. Not a damn thing.
It's also kind of weird and objectifying to think we can arrange our child's marriage to their future spouse when they are, in fact, still a child. It's so presumptive, and generally heteronormative. I don't own my kids, and I don't get to decide who they eventually date, have sex with, or marry. My daughters are not future princesses, and my sons are not future princes (no matter how fun and cool that would be), and neither me nor my husband owns them and gets to threaten their prom dates or decide who they spend their lives with. Besides, they're children. We have got to stop sexualizing kids, my friends. It's gross.
And in the end, I trust my children to choose their own partners. I don't want to be the kind of mom or mother-in-law who gets involved in my kids' relationships. Instead, I hope that my kids learn to form healthy, happy relationships with whomever they choose, and come to me if and when they actually want advice about their relationships. Until then, though, and especially after they are grown-ass adults, I am not butting in, and I am definitely not going to joke about my kids marrying other kids.