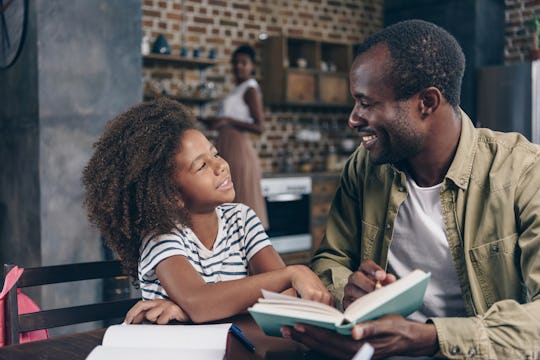 LIGHTFIELD STUDIOS/Fotolia
9 Dads Share The Most Important Thing They Want Their Daughters To Know About Men
My husband and I are trying to raise our daughters to be independent and empowered. It's hard, though, because the world is so scary, especially when it comes to how men treat women. Most (probably all) women I know have experienced some form of sexual violence, and so many men are let off the hook for their "bad behavior." So, how can we keep our daughters safe? What should we teach them? And knowing firsthand about how men operate, what do dads want their daughters to know about men? To find out, I went straight to the source, asking dads to tell me the most important thing they want their daughters to know and was totally (and pleasantly) surprised by their answers.
To be honest, I sort of expected dads to tell me that they intend to tell their daughters that they have "rules for dating" them (gross) or to greet their daughters' suitors while cleaning their guns on the front porch to scare them into submission (also gross). It turns out that the dads I know understand that their daughters aren't their property, and might not choose to even date men. More importantly, they want their daughters to know that they have a right to bodily autonomy and don't have to go along with something to please a guy or because they think they are supposed to do it.
I also expected to hear how "not all men" are problematic and how some guys are "nice." It turns out that most of the dads I spoke with don't really have a high opinion of other men. And while it's true that some guys are nice, unfortunately, way too many men aren't and the "nice guys" allow their behavior to continue. The lack of accountability established by other men in spaces they hold is astounding, so more men with horrific intentions are able to see them come to fruition.
Read on for some important messages from dads to their daughters about men. They might make you regain some faith in humanity. I just hope if any of these men have sons, they're holding them accountable, too.