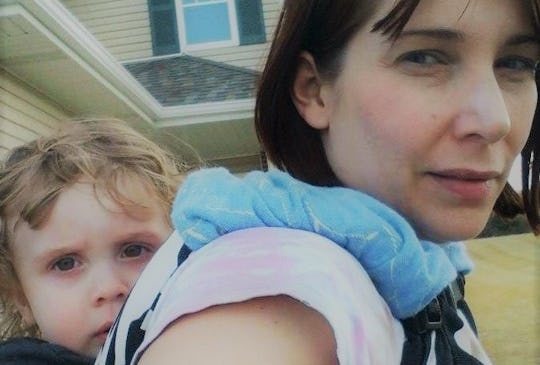 Courtesy of Steph Montgomery
9 Things A Single Mom *Wishes* She Could Say When You Tell Her You're "Tired"
I'm not sure how I survived single parenting. As amazing as leaving my ex was, it was hard. Hell, it was one of the hardest things I've ever done. I had no idea how tired a person could be until I was a single parent, either. So yeah, it kind of stung when coupled-up parents would tell me how exhausted they were. I wanted them to offer empathy, not engage in a so-called pissing contest. So believe me when I say there are so many things a single mom wishes she could say when you tell her you're "tired." And just FYI: most of them aren't all that nice.
When you are a single mom, you're it. 24-hours-a-day, every single day, you are the only person your kids can rely on. Gone are the days of being able to divide and conquer bedtime routines, share night-time wake up duty, or sleep in once in a while. As a single mom my days blurred together, and before I knew it I felt like I was stuck in a never-ending cycle. I'd wake up before dawn so I could have a quiet cup of coffee before the fray, wake-up my kids, fight about clothes, breakfast, find shoes, load the car, daycare drop-off, commute, work, rush to get back to daycare before they closed, playtime, dinnertime, bedtime battles, baby wakes up, preschooler wakes up, bodily fluid clean-up, maybe an hour or two of sleep. Rinse and repeat. So glamorous. So overwhelming. So exhausting.
As a single parent you're responsible for every illness, every doctor's appointment, every moment when you get to the register and realize that your toddler has taken a bite out of every apple in the cart, every late-night or early-morning workout, every sick day, every toddler tantrum, and every trip to the pharmacy. You're in it, alone, and while you might have a support system in place, it's not the same as having a parenting partner to go through the trials and tribulations of parenthood with you.
Now, I'm not saying that being a mom isn't exhausting on it's own, because it absolutely is. But now that I have a co-parent to partner with, to relieve me when he can, and to commiserate with when things go wrong, I know without a shadow of a damn doubt that there are different kinds of "tired." So if you find yourself telling a single mom that you're exhausted, know that she's probably thinking the following: