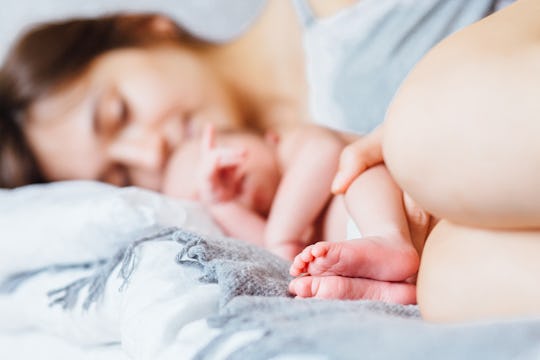 Iryna/Fotolia
9 Things I Needed During My Baby's 1st Three Months Of Life, But Was Too Afraid To Ask For
The fourth trimester — the first three months after your baby arrives — is supposed to be a time to recover from childbirth, bond with your baby, and learn how to be a new mom. Usually, though, it ends up being about trying to be perfect, failing to live up to people's unrealistic expectations, and not knowing how to ask for help because you don't want people to know you're not a professional. So there ending up being a ton of things I needed when I was in the fourth trimester that I was totally afraid to ask for.
Our culture seems to fetishize new moms, expecting us to love every moment of new motherhood and to do it all perfectly and effortlessly. Most of us expect the newborn phase to be amazing, and it totally is, but it is also unbelievably exhausting, frustrating, boring, confusing, painful, and involves way too much poop. So much poop.
There were so many things I needed — sleep, help, empathy, and a damn shower — that I was afraid to ask for, as if admitting that I needed help or a break meant that I wasn't a good mom. Between pregnancy hormones, recovering from childbirth, and sleep deprivation, I really didn't feel like myself, so help wasn't just what I wanted; it's what I needed. I also didn't know how to ask for what I needed to succeed in my role as a new mom. There are so many things I wished I had asked for, because they would have made all the difference.