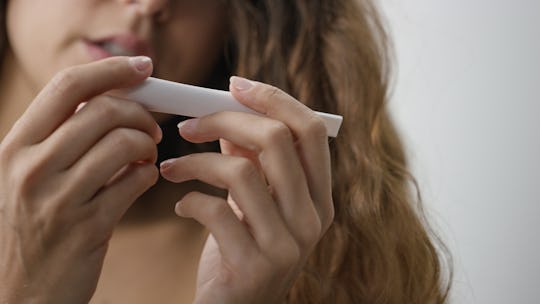 icsnaps/Fotolia
9 Things I Wasn't Ready For When That Pregnancy Test Turned Positive
Some folks go into pregnancy ready for anything and everything. They plan ahead, subscribe to pregnancy magazines, and sign up for prenatal yoga, all before that pee-stick yields a plus sign. They ask their mom-friends and relatives advice and dream about what they'll name their baby-to-be. Then there's the rest of us. You know, the ones that go into the whole pregnancy thing kicking and screaming. There were things I just wasn't ready for when my pregnancy test turned positive, so to say I was fearful, hesitant, and overwhelmed would be a substantial understatement.
If I'm being honest, and I always try to be, I have to say that I've never had a planned pregnancy. I wasn't one of those girls dreaming about the day I would have a husband (or wife), kids, a dog, and a white picket fence. Not that there's anything wrong with that, of course, it just wasn't what I was thinking about in my late 20s when I first got knocked up. Instead I was dreaming about the next big party, the next loud concert, or the next time I would travel somewhere solo. I loved my independence (still do, actually) and wasn't planning on giving it up anytime soon.
So getting pregnant was, well, shocking. I wasn't ready for any of it. Not pregnancy, not motherhood, nothing. But here I am, years later, with a toddler who I wouldn't trade for the world and, honestly, this whole mom gig is pretty great. I'm loads happier than I ever was before I became a mother, even though it took some heavy adjusting and I went through some unbelievably painful experiences. Parenthood isn't for everyone, to be sure, but if your test says positive, and you know you want to remain pregnant but you're worried about how it'll go, know that you're not alone. Most of us are not ready for pregnancy either, but rest assured, we all make it through.