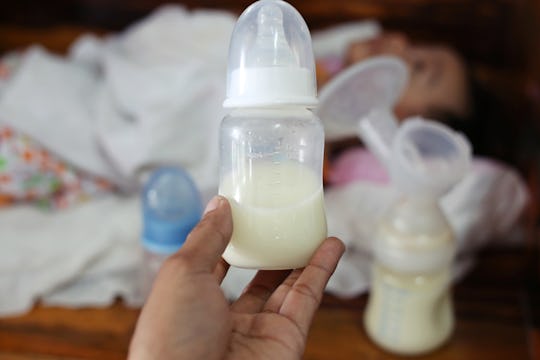 Fotolia
9 Things I Wish I'd Known About Breast Pumping, Way Before I Actually Started
I'll admit, prior to breastfeeding I could've filled a library with things I didn't know. It's hard to imagine the physical sensations and the sacrifices and even the guilt most (if not all) moms feel when breastfeeding. However, what I absolutely didn't bank on was the amount of time I'd be pumping and expressing my milk, rather than just snuggling with my feeding baby. There are some things I wish I'd known about breast pumping before I started.
Even if you don't think you'll need to pump, trust me when I say it's worth researching what equipment you'll potentially need, and doing some background reading (just in case). When you're sleep deprived, hormonal and dealing with a new baby while recovering from childbirth, it isn't really the best time to be learning a new skill.
Some women are advised to pump because they are going to be physically away from their baby for a significant period of time — like returning to full time work or taking a long trip away — while other women are adviced to pump in order to increase their milk supply. Other times, women are prevented from breastfeeding for a variety of reasons, such as illness or pain, but are adamant about continuing to express milk to give to their baby. For example, I couldn't feed my son for a short time when I was suffering from shingles, but consistently pumping helped me keep my milk supply going until I was recovered and could resume breastfeeding.
What ever reason you have for pumping there are some things you need to know. Don't make the same mistake I did, and try to put together an elaborate pump at some ungodly hour of the night when you've done absolutely nothing to prepare. Because, honestly, if I could go back and do it all over again, I wish I would have known the following: