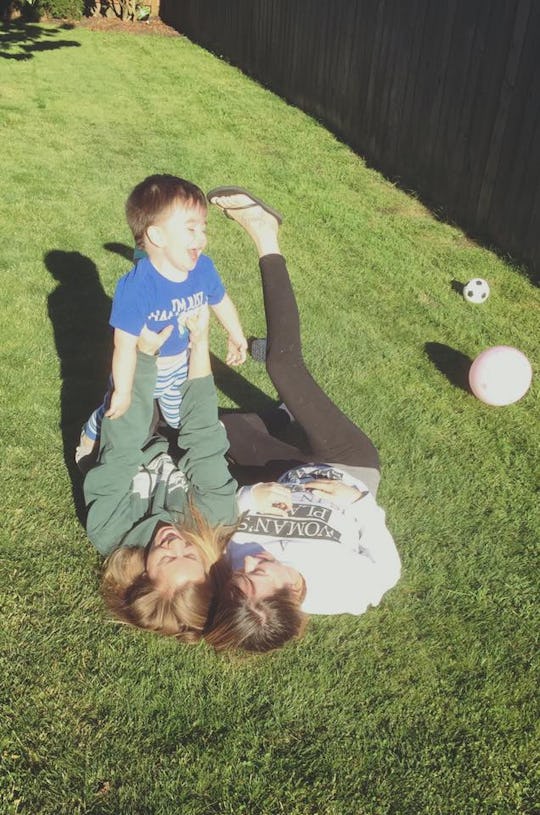 Courtesy of Danielle Campoamor
9 Things You Can Only Learn About Your Friends After You Have A Baby
Before you have your first baby, you're overwhelmed with the best of intentions when it comes to your friendships. You vow to not let this whole "baby thing" change you. You'll still totally meet up for dinners and drinks and brunches, it'll just take a lot of extra work and commitment. Your friends assure you they'll have your back, and they'll visit you all the time. Turns out, however, fantasy and reality are a little bit different. There are a lot of things you can only learn about your friends after you have a baby, because reality is jarring when it involves a newborn.
I was one of the first people among my friends to have a baby. Worse, nearly every single one of my friends worked normal work hours at an office. So, after I had my baby, I was really, really lonely. Without my newly discovered friends from my local mom group, I surely wouldn't have survived because, well, my pre-baby friendships were extremely hard to maintain. In the beginning, I had friends visiting to see me and the baby, after they finished work or on weekends. It was great to have all that company and to be able to see people I hadn't seen in a long time. But after the initial "meet the baby" visits, a lot of friends kinda feel off the proverbial map. Phone calls became few and far between, and the lure of more fun activities, like "going out" (and I totally get it) superseded hanging out on my couch and watching me breastfeed for an hour and a half.
Luckily, a solid few friends really stuck by my side. If they couldn't visit me in person, they remained virtually present via constant streams of texts, the entirety of which could fill volumes. They answered my calls when I called them crying at work and just listened, even though they couldn't really decipher what I was saying through all the snot and dry heaving (because new motherhood is damn hard). When I expressed that I just really needed a girl's night with wine and a dumb movie at my house, or someone to just sit with me because the baby hadn't stopped crying all night and my husband was working late, they would drop whatever they were doing to come over. These are my ride-or-die friends, and I hope that I've been able to do the same for them when they've needed me (especially when and/or if they become new moms, too).