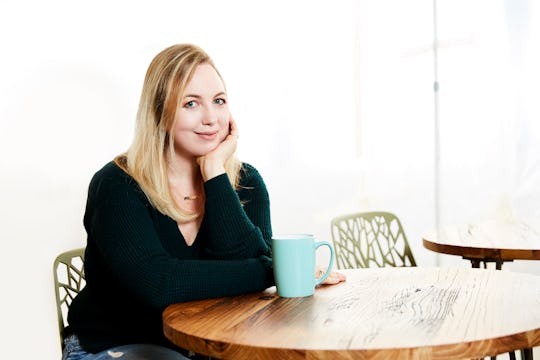 Romper's "All I Want" Holiday Issue Is About Giving — And Getting — What Matters Most
Like you, I have thousands and thousands of photos of my daughter, what feels like millions of little moments captured. An embarrassingly scant few are printed out and framed; the vast (vast) majority of them live only in my phone's camera roll and in the mysterious ~cloud~ beyond. There's several-week-old baby Isabella fresh from one of her very first kitchen sink baths, peeking over her father's shoulder; there she is at maybe 2 years old, asleep at the kitchen table with her squashy cheek on her paper, crayon clutched in her hand; there's that shot of her sitting hopefully on our front walk at 7 years old, waiting for a lemonade stand customer, her long curly hair lit by the sun; there's the one from a Halloween not too long ago where she's carefully drawing kitty whiskers on my face.
What do they add up to? What is the picture that tells the complete story of being a mom?
That's a question I've been thinking about a lot over the last few months as we've been planning our holiday issue, All I Want. Every day at Romper we publish articles about breastfeeding and potty training and temper tantrums; about birth plans gone awry, lost libidos, lost socks, the funny celebrity kid moment. These individual stories often have a specific focus (ahem those viral "Baby Shark" videos), but they are all asking the reader the same broader question: what is motherhood for us?
Do my photos accurately tell the story of what is has been like to be Isabella's mom?
Even nine months pregnant, motherhood is still unreal, abstract, impossible to believe! But then once you're in it, it's difficult to describe. It's this, but it's also so much that. Taken all together, do my photos accurately tell the story of what it has been like to be Isabella's mom? Certainly, there are the moments missing from the camera: the countless times I snapped at her, the hours I lost when work anxiety stole my attention, the ugly fights that shouldn't have unfolded in front of a tender witness.
When I sift through all the moments looking for something fundamental, I don't think of who I am, or even who my daughter is and will be. I think of a gift. It is all a gift. And I write that without a wink or a caveat. I have a favorite photo. It's from before Isabella fully entered teenager-land, but when she was no longer a little girl. I snuck it with my iPhone as she lay sleeping with her head on my chest, a rare occasion even two years ago, but something that used to be a common occurrence. In that photo, there is nowhere I'd rather be, nothing in the world that could be better. It was a fleeting moment of grace, and I took a picture because I wished it could last.
It feels right to celebrate that picture of motherhood as we head into the holidays — a time of overwhelm, stress, money worries, but also a time when we strive to focus on the beauty of what we are doing every single day: giving our children all that we can, and getting even more in return. For our cover story, "Believe It Or Not, Millennials Actually Like Parenting," our features editor Janet Manley deftly takes on a popular view of contemporary motherhood — that it implodes careers, snags marriages, erases identities, ruins interior design schemes — and flips that on its head. A truthful but ultimately positive view — a beautiful, celebratory picture — of parenthood has somehow become contrarian, but as Janet found when she talked to parents about why they're actually into this parenting thing, it's arising organically and sincerely felt.
We're homing in on not only the gift of motherhood but on the real gift of the holidays.
That dovetails nicely with our overall focus in this issue. As we set back our clocks, bring this year to a close, and start to look ahead to the next, we're homing in on not only the gift of motherhood but on the real gift of the holidays: stockpiling hokey table runners, striped pajamas, and trinkets for the people you love to bits — that is to say, creating some joy for our dear ones, and for ourselves.
And let's be honest: none of this holiday merry-making is possible without the gift that you want most when a small human barrels into your bedroom at 2 a.m. demanding water, a banana "I peel myself!," or to know why there are raccoons. Yes, that would be The Greatest Gift Of All: Sleep. Because all kidding aside, parental sleep deprivation is a huge issue in a society that worships being "busy" and yet offers so little support for busy parents. In Getting More Sleep After Baby Is Possible: Here's What You Need To Know, Alice Callahan, Ph.D, the author of The Science of Mom, explores exactly what we would tell new families if we were to — gasp! — prioritize a new mom's sleep along with that of her baby. Revolutionary? Maybe, but it's an idea we're more than ready to embrace.
While we work on giving you the gift of uninterrupted slumber, we can also offer you A La Cart, our shoppable guide to things that will make the thornier aspects of decking the halls a little more bearable. Curated by our Senior Lifestyle Editor Anne Vorrasi, this guide includes everything from the most soothing undereye mask out there to the book you'll need for moments of escape (what's the winter version of a beach read? This!) to a singing bowl to recenter yourself when your brother brings a date at the last minute. We have a timely edition of Dear Jenny, too, in which our resident advice-giver-outer tackles the eternal dilemma of the Sister-In-Law Who Insists On Hosting… and the broader topic of doing what is meaningful to you for the holidays, even if that means upsetting the proverbial pile of decorative gourds.
For this edition of This Book Belongs To, we welcome award-winning stand-up comedian, writer, and musician Lane Moore, author of How To Be Alone, who wrote about the childhood book she finds to be a source of comfort during the holiday season; and in Expense Report, our ongoing series that looks at how families make it work financially — down to the dollar and cent — a mother of four shares her holiday spending budget. And new for this issue is Contain Yourself, where we give you a peek inside a space in a fellow mom's life and how she organizes it. We're totally thrilled to have Emily Farris, the genius cocktail maker, stylist, and lifestyle writer behind The Boozy Bungalow, give us a tour of her open kitchen shelves. (Yes, open, as is no cupboard doors to hide the chaos!)
Remember your scooter? We found one you'll love even more.
Of course, no holiday issue would be complete without a gorgeous and thrilling array of toys! With a little help from her 21-month-old, Anne spent months attending toy trade shows and testing out the newest, most fun, and most creative offerings (a tough job, but you know what they say), as well as sourcing some of those standards that will never go out of style. (Remember your scooter? We found one you'll love even more.) The result is Romper's Toy Box, the 101 most-wanted and must-have toys for 2018. It's divided into age categories to help you find the perfect thing for every kiddo on your list. And now that we've made our list and our copy-editor has checked it twice, we're so happy to be able to donate all of our sample toys to Children's Aid.
Wait, there's more: While kids love unwrapping toys, there's a lot more that we hope to give our little ones, both during the holidays and every day. Romper writer Jamie Kenney's open letter to her kids gets to the heart of that, with her trademark humor (and not a few interruptions!). And last but certainly not least, we're over the moon to bring you a special episode of #Before9AM, our Instagram series celebrating everything moms do before the rest of the world has finished their first cup of coffee.
That photo of Isabella snoozing in my arms captures the joy and the gratitude that define motherhood for me. My wish for you, for all of us, this holiday season, is that we find and embrace just a few more of those little moments than usual — because they are the moments that will add up to complete the picture.
-April Daniels Hussar, Managing Editor, Romper