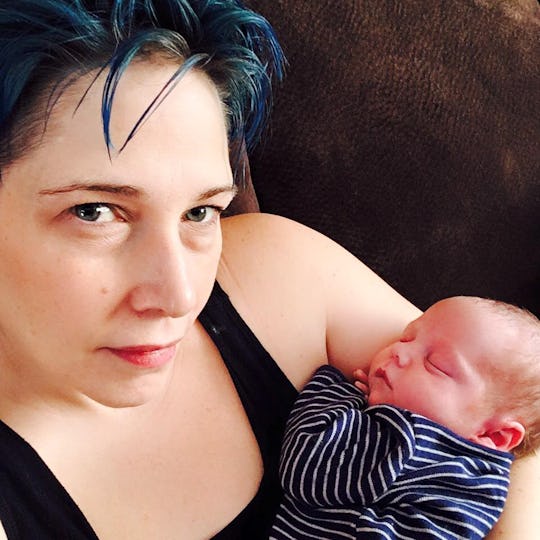 Courtesy of Steph Montgomery
Sorry Dads, But You Can't Understand These 11 Things We Experience Days After Birth
Contrary to popular belief, maternity leave is not an extended vacation. Recovering from childbirth is not something that happens immediately, either, or even in 12 weeks. At the same time, we romanticize the fourth trimester as nothing but days full of baby snuggles, usually overlooking the fact that those days often include numerous struggles, too. If your partner has never gone through childbirth themselves, it's hard for them to understand. So yeah, sorry dads (and other partners of post-baby parents), but you can't understand what us moms experience after childbirth. You don't need to understand, however, to give us your empathy, support, and encouragement while our bodies recover from something as taxing as pregnancy, labor, and delivery.
I recently read a funny meme that compared recovering from childbirth to feeling like you had been in a car accident, only to be sent home to care for a helpless stranger who was also in a car accident. I must say, that's pretty spot on. I would, however, add bleeding, stitches on my vulva and perineum, undersupply, postpartum depression and anxiety, body image issues, bleeding nipples, uterine contractions, and peeing myself rather regularly to that list. When my last baby was born, I also was recovering from a leg injury and couldn't freaking walk. So, yeah, for me recovering from childbirth was not instantaneous and not very magical.
Honestly, I had a seriously hard time explaining how I felt to both my former husband and current husband. My now ex-husband didn't get understand how I could possibly be depressed. I mean, I had a beautiful baby. What was wrong with me? So I started to believe there was something wrong with me. His complete lack of understanding as to why I didn't want to have sex, and how bad I felt about my postpartum body, also made my postpartum recovery difficult. My current husband has been a constant source of support, but I honestly can't explain how different (and messed up) my body feels, why I can't sleep (even when the baby is sleeping), and how traumatic it was to not be able to breastfeed.
While I would never wish my darkest postpartum moments on anyone, there's so many things I wish I could help my partner understand.