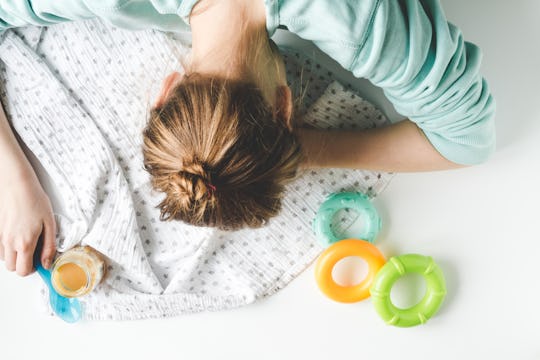 279photo/Fotolia
Sorry Not Sorry, But New Moms With Depression Have It Way Harder Than Other Moms
Being a new mom is hard. In fact, it's pretty much one of the most difficult things I have ever done. Between my painful recovery from childbirth, difficulty breastfeeding, and the intense pressure I felt to do everything perfectly, being the parent to a helpless, demanding newborn felt impossible at times. My recovery was made even harder by postpartum depression. In fact, and in so many ways, new moms with depression have it way harder than other moms. It's not that we're all in some sort of "who has it worst?" contest, but being realistic about new-mom life and postpartum depression is the only way women, like me, will get the help they need. So this isn't a pissing contest, it's just the truth.
You see, depression lies. Even when you're doing just fine as a mom and accomplishing everything you're supposed to be accomplishing, your depression will make you think you're failing. I was exhausted from growing a human in my body, but my postpartum depression made it impossible for me to sleep. I would stay awake all night, just staring at my baby, hoping that they would be OK despite my obvious shortcomings as their mother. When I wasn't able to produce enough breast milk, and my daughter got seriously sick, I blamed myself. The pressure to breastfeed made me want to die, and postpartum depression helped me create a plan to carry it out.
I felt so alone. I was sad and anxious all of the time. I would cry for hours, worrying about my kids while I simultaneously convinced myself that I was a bad mom for feeling the way I did. What kind of mom is sad when she has a new baby to snuggle? (It turns out, a lot of us are.) To make matters worse, our society both stigmatizes mental illness and fetishizes new moms. Everyone pretends to be perfect on the outside, and no one ever talks about anything unpleasant they're experiencing on the inside, especially depression. So when I first realized I was depressed, I was really embarrassed and thought this was something to hide and be ashamed of.
For these and so many other reasons, new moms with depression have it so much harder than moms who don't experience these painful, debilitating feelings of self-hatred. So it's time to talk about it, starting with the following: