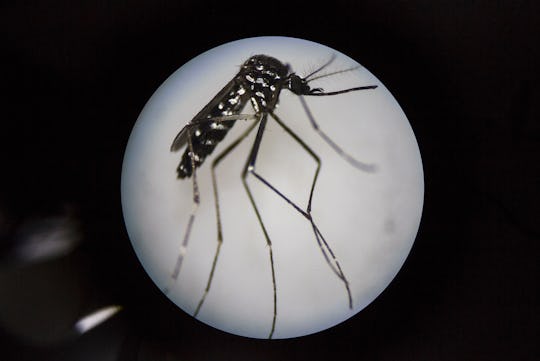 Kevin Frayer/Getty Images News/Getty Images
Zika Is Less Of A Threat, But A Vaccine Is Still Desperately Needed
Just last year, much of the world — including parts of the United States — was in the throes of a Zika virus epidemic that had health officials warning pregnant women to do everything they could to protect themselves. Now, as officials have reported, the Zika epidemic has slowed down dramatically, which is great news for expectant mothers worried about the severe birth defects the mosquito-borne virus can cause in their newborns. And as such, the Centers for Disease Control has lifted its previous, unprecedented travel advisory imploring pregnant women to avoid Miami-Dade County in Florida, and there are no known instances of illnesses contracted via mosquito in the state in 2017. Still, the dangerous virus could still be lurking to gearing up for a resurgence. So, a vaccine is still crucial to combat Zika even more effectively.
Unfortunately, there is no vaccine or treatment for the virus, which began ravaging Brazil and other South and Central American countries in 2015. Instead, officials have urged those worried about contracting it to avoid traveling to infected areas, to take steps to shield themselves against mosquitoes, and to abstain from sex with someone who could be infected, as the virus can be sexually transmitted as well. And the fact that the threat seems to have abated in the United States and elsewhere for the time being does not mean that people should totally let their guard down. That's especially true for pregnant women, whose babies could be at risk of severe birth defects, like brain damage.
The Miami Herald reported recently that there are a variety of factors responsible for the decrease in Zika cases in Florida, which logged 285 instances of the illness spread by mosquitoes by the end of last year. First, there are much fewer cases in the Caribbean and Central America, which is good news for Florida. There's also the fact of the "herd immunity" people in affected areas have built up, because experts believe that one person cannot become infected more than once. For right now, that's great. But it doesn't mean that the effort to eradicate the illness is over, as University of Florida epidemiologist Derek Cummings told the Miami Herald:
As years go by, more people are born into a population and they haven't encountered Zika, and so they're going to introduce susceptibility into the population. Some number of years from now, those susceptible populations will rise to where you'd have sufficient numbers and then maybe we'd be doing this all over again.
What's more, there may be some out there who are infected but do not know it because they're not experiencing the oftentimes relatively mild symptoms, director of Miami-Dade mosquito control Bill Petrie said, according to the newspaper. "So it could be circulating and we don't know it," Petrie warned.
Officials and researchers have worked tirelessly to mitigate the Zika threat, including exploring the possibility of genetically modifying mosquitoes to stop its spread. There's also an app for pregnant travelers to track where the threat of Zika could be highest. And perhaps most importantly, Zika vaccine trials have been in the works — some with promising results. Most recently, for for instance, Arizona State University researchers developed a vaccine to prevent the illness derived from a tobacco plant that they believe could be especially useful in developing countries.
Given the high stakes for pregnant women and their babies, the reprieve from the high volume of Zika cases is not a signal to stop being vigilant. We're not totally in the clear yet — and it's very possible that we won't be until an effective vaccine is developed, approved, and made available worldwide.